The theme of this year's World Kidney Day is "Kidney disease and obesity: Healthy lifestyles for healthy kidneys." While it may not be surprising to read about the correlation between kidney disease and obesity, it can be quite sobering to see the statistics, and it strengthens our resolve to continue making a difference for the patients we serve.
Obesity is a major risk factor for several kidney diseases including kidney stones, kidney cancer, chronic kidney disease (CKD), and end-stage renal disease (ESRD).1, 2, 3 Obesity can also negatively impact a person's health in other ways, such as heart disease, diabetes, hypertension, high cholesterol, obstructive sleep apnea, fatty liver, gall bladder disease, osteoarthritis, various cancers, mental disorders, and poor quality of life.1
People who are overweight or obese [are 2 to 7 times more likely to develop] ESRD compared to those of normal weight. Obesity may lead to CKD both indirectly by increasing type 2 diabetes, hypertension and heart disease, and also by causing direct kidney damage by increasing the workload of the kidneys and other mechanisms."1
In 2014, there were over 600 million obese adults in the world. By 2025, obesity will affect over 21% of women and 18% of men worldwide.1 But it doesn't have to be that way. By making healthy habits a part of your everyday lifestyle—eating a nutritious diet and exercising regularly—you can reduce the risk of obesity and kidney disease.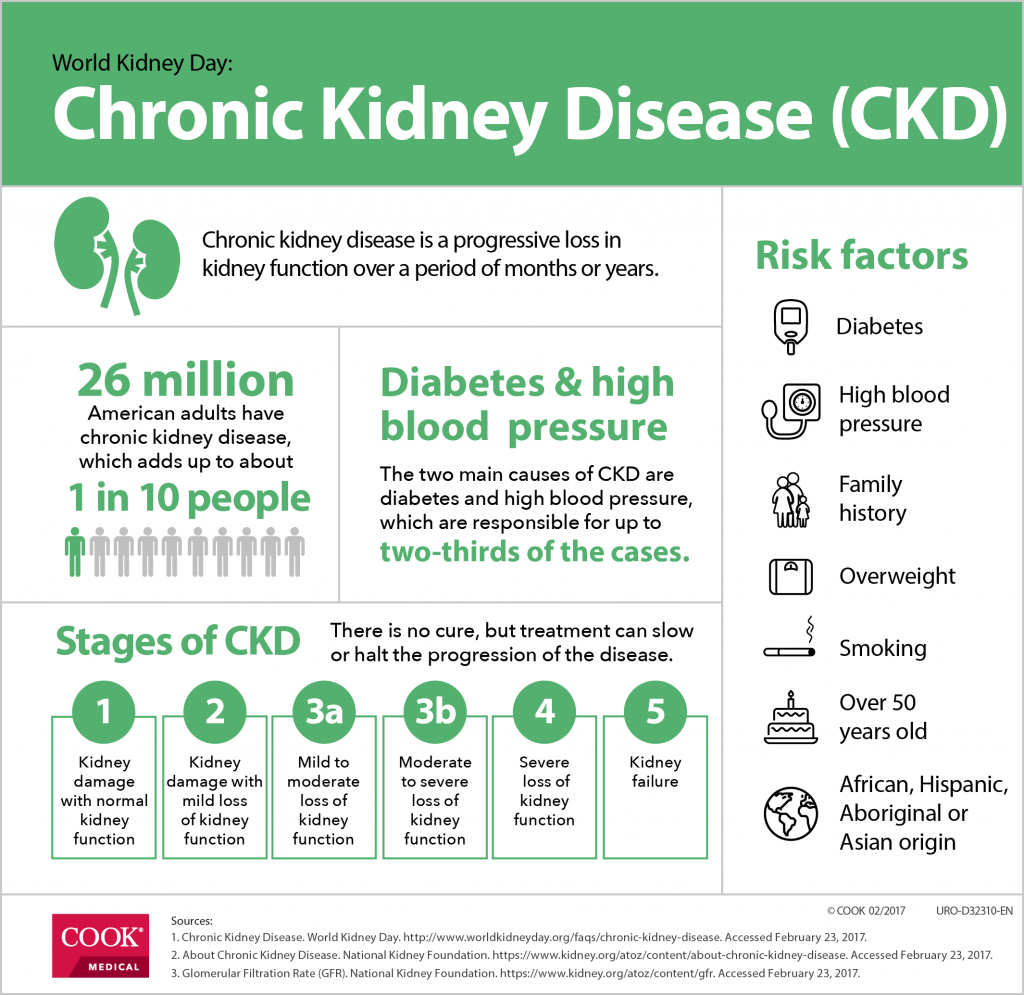 World Kidney day is a joint initiative of the International Society of Nephrology (ISN) and the International Federation of Kidney Foundations (IFKF).
---
Kidney Disease & Obesity. World Kidney Day Web site. http://www.worldkidneyday.org/2017-campaign/2017-wkd-theme/. Accessed February 15, 2017.
What causes kidney stones? Urology Care Foundation Web site. http://www.urologyhealth.org/urologic-conditions/kidney-stones/causes. Accessed February 15, 2017.
Kidney cancer statistics. World Cancer Research Fund International Web site. http://www.wcrf.org/int/cancer-facts-figures/data-specific-cancers/kidney-cancer-statistics. Accessed February 15, 2017.