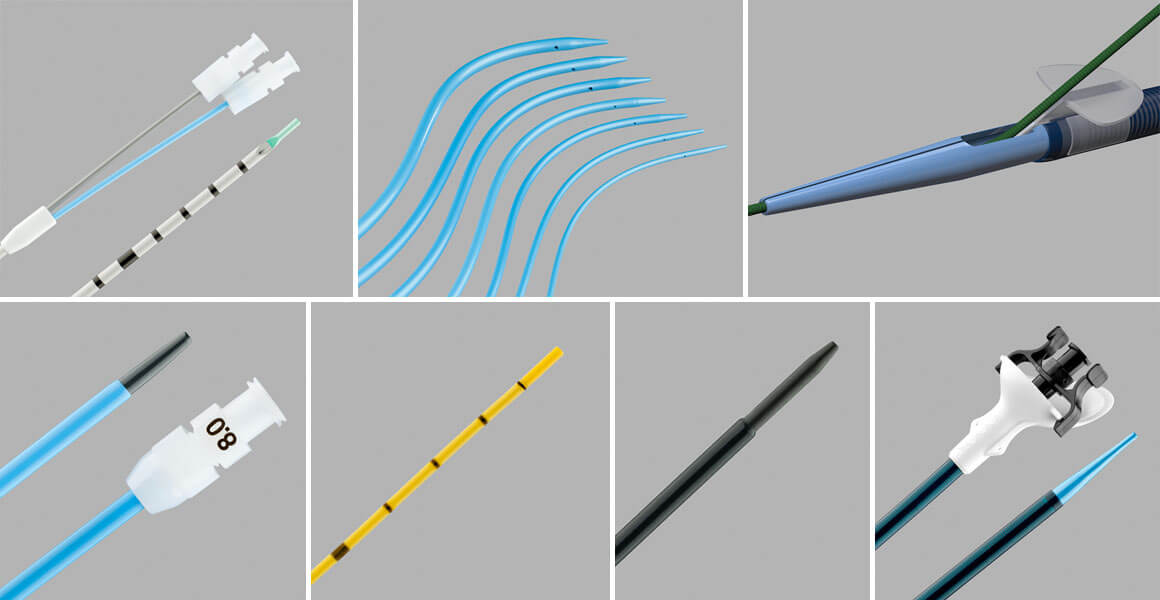 Unfortunately, if you've seen one urethra, you haven't seen them all. Diversity in your patients' anatomy demands a diverse selection of products for your urological procedures—starting with products for gaining and maintaining access. That's where we come in.
Used to dilate male urethral strictures and vesical neck contractures, the S~Curve™ Urethral Dilators are specifically designed to navigate the natural curvature of the male urethra. The sequential dilators (available in 8-26 Fr sizes) are constructed to retain their shape during placement.
As you work your way up the urinary system, we offer a variety of catheters that can be used in a retrograde pyelogram to help you visualise the ureter. The Dual Lumen Ureteral Access Catheter is used to inject contrast medium and anesthetic gel and/or to place safety wires. The Open-End Flexi-Tip® Ureteral Catheter is a second option for injecting contrast. It is used for retrograde pyelograms and drainage. The flexible, open-tip design allows placement via a wire guide.
For the retrograde placement of an indwelling stent, your options include the Cook® 810 set and the Desilets-Hoffman Introducer Set. The latter can also be used for antegrade ureteral access and has the added feature of a radiopaque band on the delivery sheath to aid in fluoroscopic visualisation during placement.
To maintain access, consider the original Flexor® Ureteral Access Sheath. It was one of the first devices on the market to feature reinforced coil construction to help maintain a working channel and facilitate the passage of endoscopes and other instruments into the urinary tract. When compared to several competitor sheaths, the Flexor sheath was predicted to be less likely to buckle while advancing up the ureter.1 
Using a single wire guide throughout a procedure can reduce the number of products needed and may decrease OR time and costs. The Flexor® Parallel™ Rapid Release™ Ureteral Access Sheath gives you the option to use a single wire guide as both a safety and working wire using the rapid-release technique. Place the sheath over a wire through the slit in the sheath's dilator. When the dilator is withdrawn, the wire exits the slit and remains parallel to the sheath, acting as a safety wire and leaving the working channel unobstructed for the protected introduction of instrumentation.
These are just a few of the access products we offer. Contact your local Cook Medical representative to learn more.
For more information on the products listed in this post, please see their instructions for use.
---
1 Pedro RN, Hendlin K, Durfee WK, et al. Physical characteristics of next-generation ureteral access sheaths: buckling and kinking. Urology. 2007; 70(3):440-442.