At Cook, our teams have dedicated many hours and resources to ensure we are ready, and we are actively transitioning products to meet the new European Union Medical Device Regulation (EU MDR) requirements.
As a busy healthcare provider, you probably have questions on this complex topic. We have created this information page to support our healthcare partners through these changes. We want to make sure you understand what changes Cook is making in response to EU MDR and how those changes will affect you. While we know there will likely still be changes ahead, our goal is to be transparent and stay connected.
Below are answers to some of the questions you may have regarding EU MDR. These answers will provide an overview only and are not intended as guidance. For further information on what's changing please visit the official EU MDR site.
What is EU MDR?
EU MDR replaces the existing Medical Device Directive (MDD) and brings substantial changes to the ways products will be brought to the European market.
The new regulation is intended to address product life cycle issues not previously covered by MDD, and the changes will focus on patient safety, standardisation, and transparency.
What is Cook's position on EU MDR?
The new regulation aligns with Cook's mission and core values of putting patients first, giving full transparency, and demanding quality.
What are the key changes I will see?
All implantable devices will come with patient implant cards, which physicians will fill out and provide to patients. Cook Medical also has a website for patients to learn more about their implanted devices: cookmedical.eu/patient-implant-information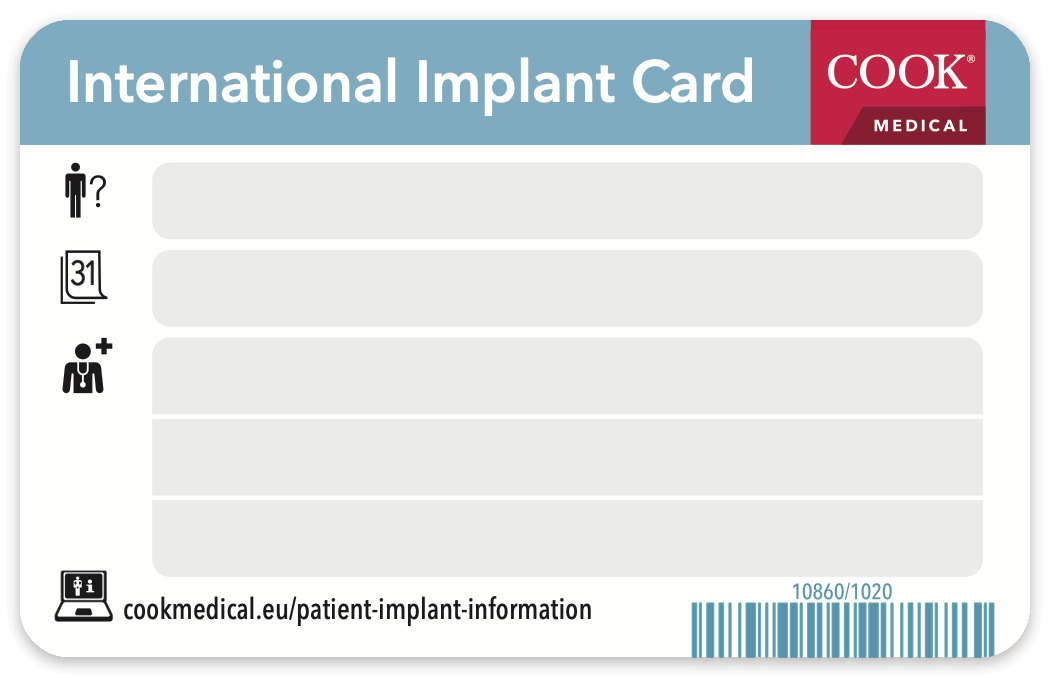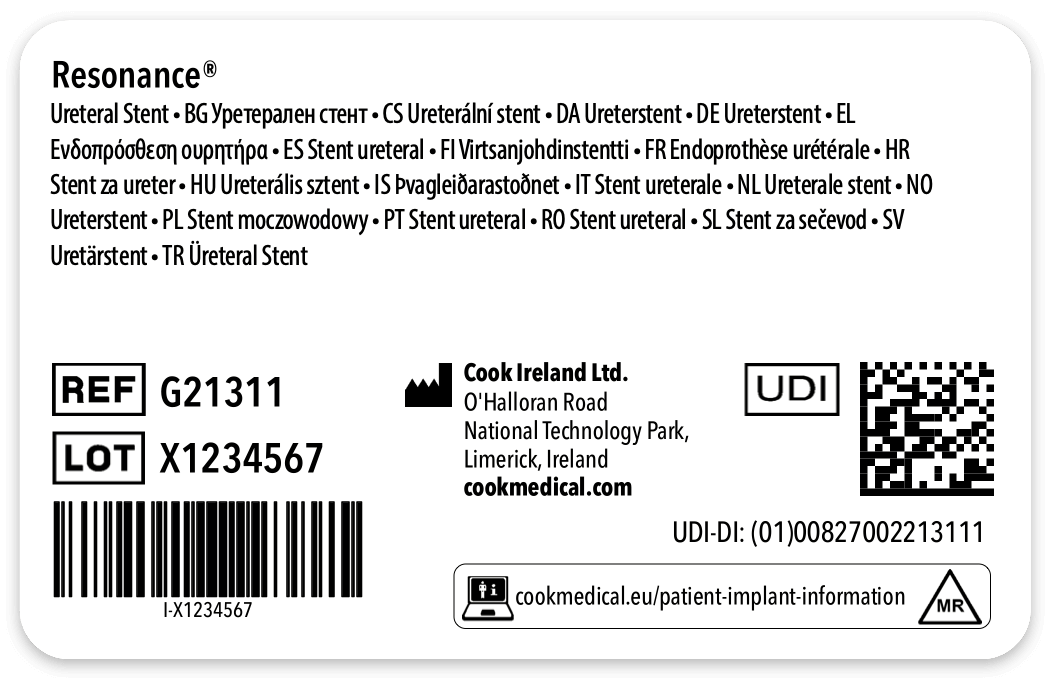 We have improved the information on our labelling, including:
Translations of the device name, the device type, and the full contents of the Instructions for Use (IFUs).
Component graphics to represent the contents of the packaging, using more symbols to provide more information, for example:

The sterile barrier system (SBS) symbols clarify what parts of packaging are sterile barriers.
The medical device (MD) symbol shows that the product is classified as a medical device.
This graphic is intended as an example only. Labels will vary by product.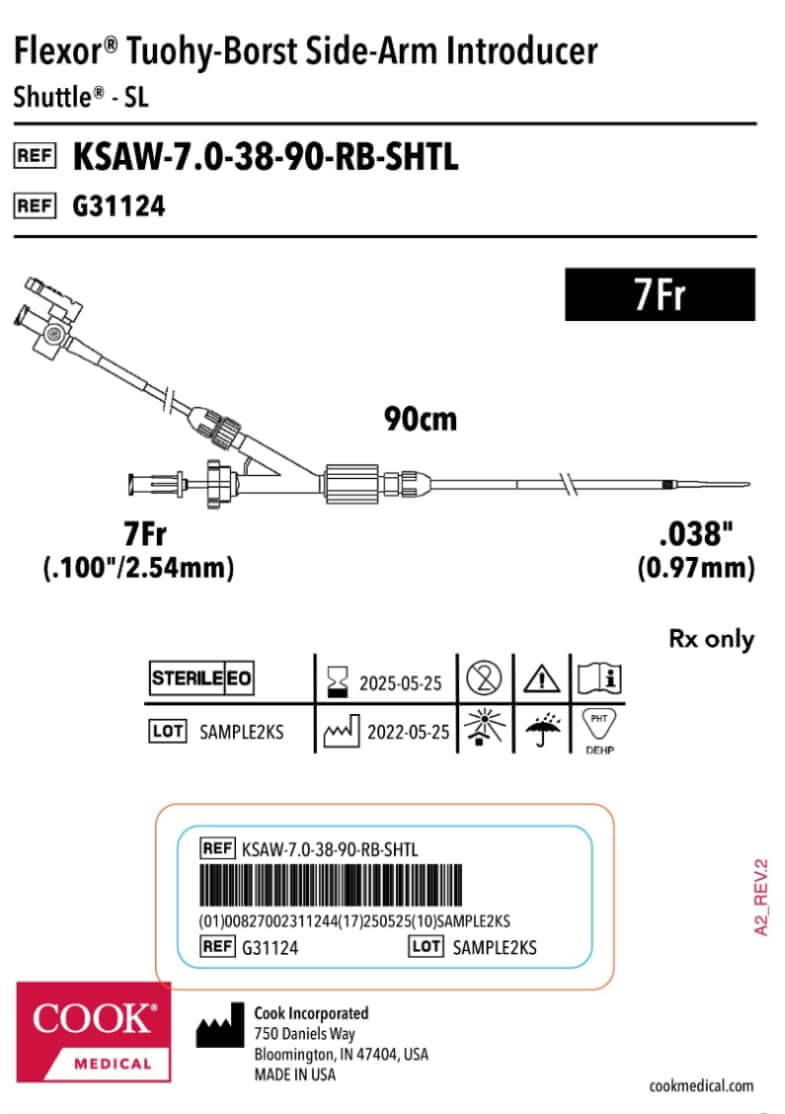 Example of the former MDD version of a label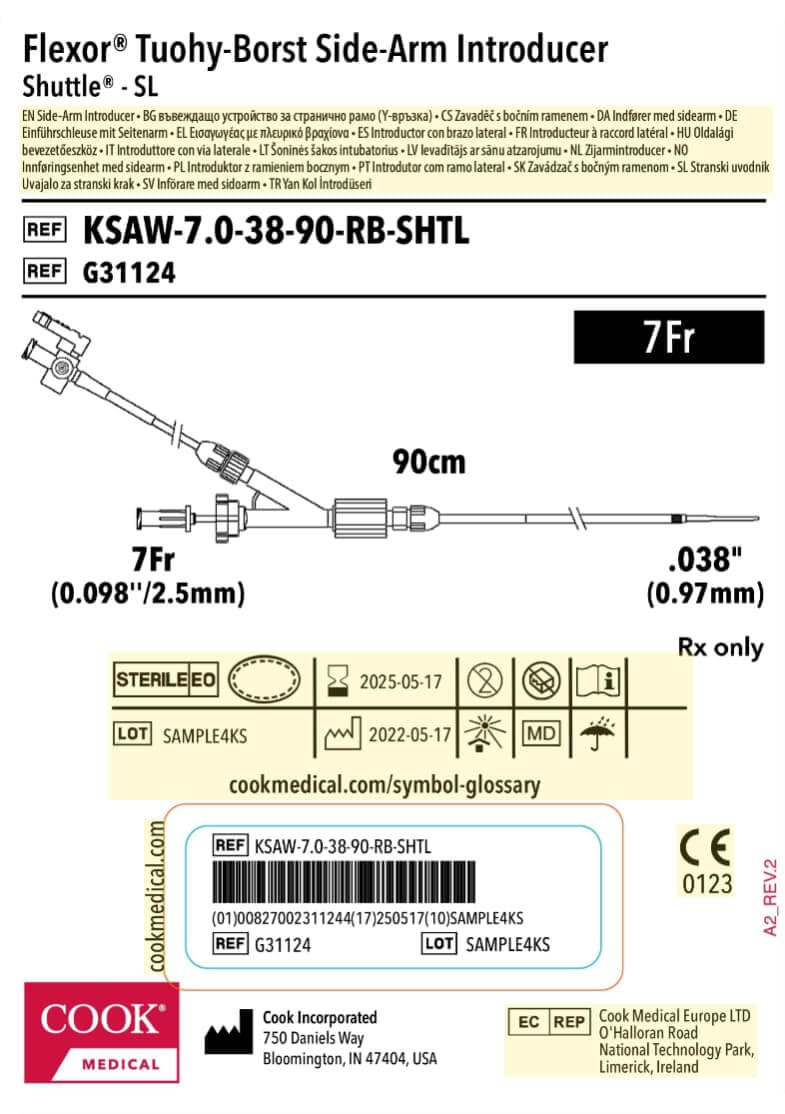 Example of the new EU MDR version of a label
Will the products I use still be available?
We continuously review our product offerings to focus on areas of patient and provider need, including developing new products. It is possible that some products will be consolidated or discontinued as a result of EU MDR.
To continue to provide the best possible experience, if products become unavailable, we will do our best to provide ample notice and clinical support to ease the transition.
You can find product availability, product alternatives, product discontinuation information, and contact details for the local support team (phone, email, chat) in our Customer Portal.
Is EU MDR already in effect? Why was there an extension?
Yes, EU MDR went into effect in May 2021, and Cook has teams dedicated to adapting our whole product life cycle and making sure we are ready to continue providing high-quality products. We have already transitioned some products to EU MDR certification.
The extension, granted in March 2023, gives medical device companies additional time to come into full compliance with the new standard and more time to ensure consistent supply during this transition.
Are regions outside of the European Union affected by these changes?
Yes, because we obtain the CE mark for products in order to offer them in the EU, other countries where the CE mark applies may also be affected. Please reach out to EMEAenquiry@CookMedical.com if you have questions about your specific region.
Where can I find more information?
More information on EU MDR can be found in the Support Resources listed on this page. If you have further questions, please email EMEAenquiry@CookMedical.com.