Cook Medical is proud to be a long-time supporter of United European Gastroenterology (UEG) Week. Now in its 27th year, the event regularly draws over 12,000 participants who are interested in the research and clinical management of digestive diseases.
If you plan to attend, we look forward to seeing you there! Drop by and visit with our team.
Cook Medical: Booth #20, Hall 8.1
When: October 19 – 23, 2019
Where: Fira Barcelona Congress Centre – Gran Via, Barcelona, Spain
Request Hands-on product demonstrations
Cook Medical's European Product Specialist team will be available during UEG Week for hands-on demonstrations with devices for ERCP and hemostasis. To request a demonstration, contact our team at the Cook Medical booth #20.
When:
Monday 09:00 – 16:00
Tuesday 09:00 – 16:00
Wednesday 10:00 – 12:00
Innovations in endoscopy
Pancreatic and biliary: Take a look at our advanced biliary portfolio, including the improved Zilver 635® Biliary Self-Expanding Stent with 10 cm and 12 cm lengths, and the Acrobat® 2 Calibrated Tip Wire Guide, which demonstrates a 35% greater tip flexibility than major competitors.*
Endoscopic ultrasound: Discover the EchoTip ProCore® HD Ultrasound Biopsy 20 gauge needle, designed to help you obtain core biopsies even in the most difficult anatomical positions. Learn more about a recent randomized controlled study which reported a technical success rate of 99% in EUS-FNB cases using the 20 gauge needle.**
Haemostasis: When facing any GI bleed, the more simple and effective treatment options you have, the better your patient outcomes can be. Be sure to try your hand at deploying the Hemospray® Endoscopic Hemostat and the Instinct™ Endoscopic Hemoclip.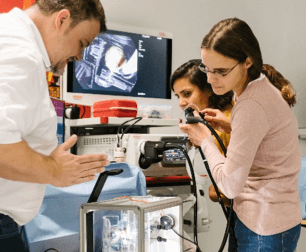 Explore training opportunities
For physicians and nurses looking to advance their endoscopic skills, speak to our team at UEG Week about Cook Medical's Vista Education and Training program. Get in the same room with renowned physicians and work shoulder-to-shoulder to improve outcomes. You can also experience the ERCP trainer while you're there – just one of the training opportunities offered by Cook Medical which enables ex-vivo cannulation and sphincterotomy skills development.
Clinical presentations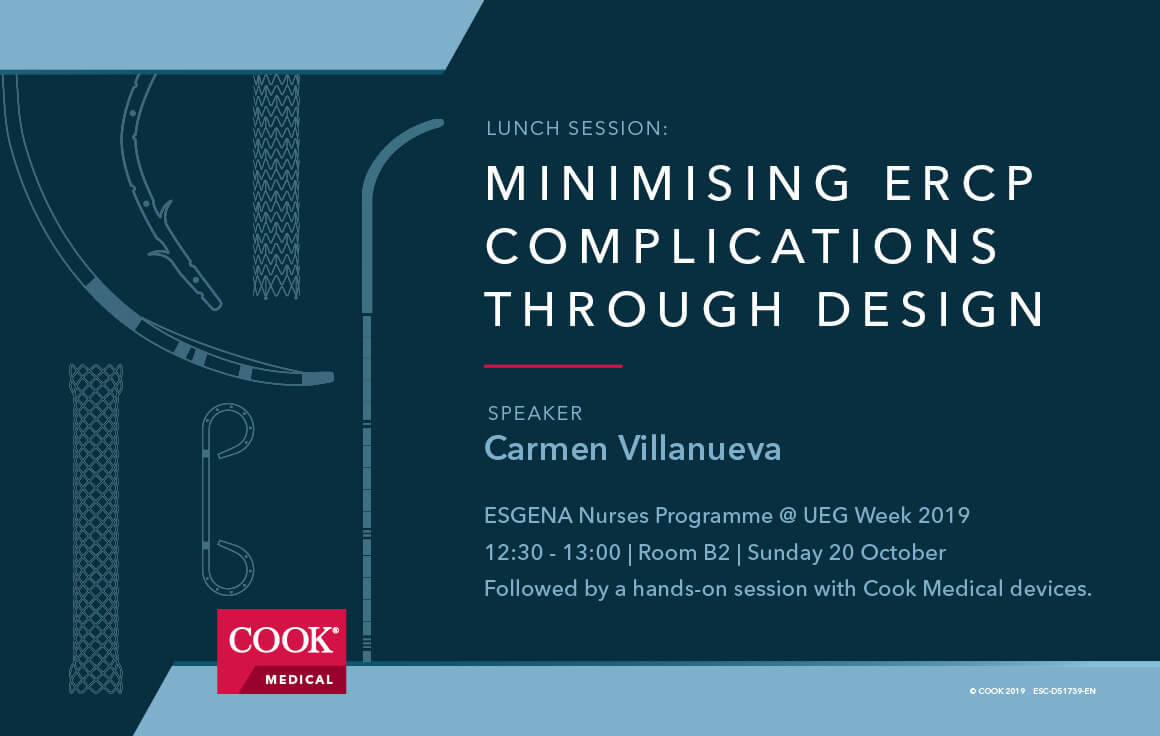 Follow us on Twitter @Cookgastro #UEGWeek for live updates from the congress.
To view the congress program, visit https://www.ueg.eu/week/.

*Benchtop test data on file at Cook Medical.
** van Riet PA, Larghi A, Attili F, Rindi G, Nguyen NQ, Ruszkiewicz A, Kitano M, Chikugo T, Aslanian H, Farrell J, Robert M, Adeniran A, van der Merwe S, Roskams T, Chang K, Lin F, Lee JG, Arcidiacono PG, Petrone M, Doglioni C, Iglesias-Garcia J, Abdulkader I, Giovannini M, Bories E, Poizat F, Santo E, Scapa E, Marmor S, Bucobo JC, Buscaglia JM, Heimann A, Wu M, Baldaque- Silva F, Moro CF, Erler NS, Biermann K, Poley JW, Cahen DL, Bruno MJ. A multicenter randomized trial comparing a 25-gauge EUS fine-needle aspiration device with a 20-gauge EUS fine-needle biopsy device. Gastrointestinal Endoscopy. 2019 Feb; 89(2):329-339
This study was supported by a restricted grant from Cook Medical. Cook Medical had no influence over study design or final results reported.