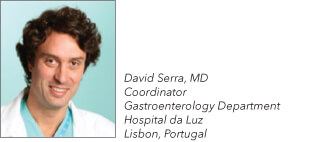 Expandable metal biliary stents are currently used to treat biliary tract obstruction. Malignant biliary obstruction can be caused by direct tumor infiltration, extrinsic compression, adjacent inflammation, desmoplastic reaction from tumors or, more commonly, a combination of more than one of the aforementioned factors. Pancreatic cancer is the most common cause of malignant biliary obstruction and jaundice is the most common symptom in the course of the disease.
Since June 2012, we at Hospital da Luz began using the new Cook Evolution Biliary uncovered stent in our department. In the first eight months, we used this new device in 30 patients: 17 with pancreatic cancer, eight with cholangiocarcinoma, two with gall bladder carcinoma, and two with hepatic metastasis from colon cancer.
All patients were presented to us with obstructive jaundice. Our preliminary results with the new stent were excellent. All stents were successfully inserted endoscopically with immediate biliary drainage.
In our preliminary evaluation, we consider the Evolution Biliary uncovered stent very friendly to use, thanks to the new, controlled release delivery system. The accuracy in delivering the stent is very high with less degree of foreshortening. We also managed to reduce the radiation exposure, using only the endoscopy view in stent delivery.
The following are a few of our Evolution Biliary uncovered stent cases.
Case 1
An 87-year-old patient admitted with obstructive jaundice associated with inoperable pancreatic cancer. A malignant stricture (about 3 cm in length) was located in the distal part of the common bile duct (CBD). After sphincterotomy, a 60 mm Cook Evolution Biliary uncovered stent was deployed over the guide wire with immediate drainage of black bile.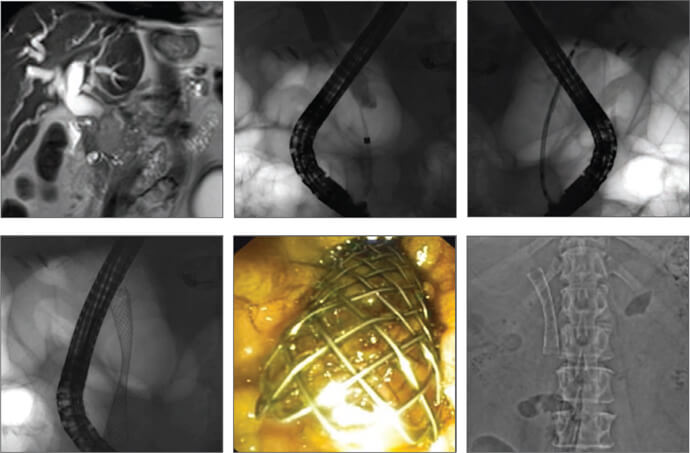 Case 2
A 63-year-old patient was admitted with obstructive jaundice. CT and MRI showed pancreatic head mass with hepatic metastasis. In cholangiogram we observed 2 stenoses in CBD (hilar and distal segment). We used the 80 mm Evolution Biliary uncovered stent with resolution of both stenoses.


Case 3
An 80-year-old patient was admitted with previous diagnoses of pancreatic cancer. In June 2012, ERCP with ST the first 60 mm Evolution Biliary uncovered stent was placed. Approximately 5 months later, the patient was admitted with jaundice and tumor ingrowth into the stent lumen. During a second ERCP, a second Evolution Biliary uncovered stent (80 mm) was placed.

Images courtesy of David Serra, MD, Hospital da Luz, Lisbon, Portugal.
Previously published in The Channel.