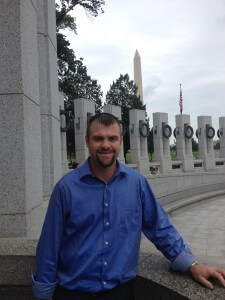 As the newest clinical division at Cook, we want to introduce you to our team and help you get to know us! This is the first in the #knowohns series.
Darin is the OHNS engineering team leader.
Tell us about your background and where you were before you came to Cook.
I studied mechanical and biomedical engineering at Rose Hulman, and Cook was my first job out of college. I remember Mr. Cook coming to speak in one of my biomedical engineering classes. At the end of the lecture, Mr. Cook handed out Cook mouse pads to the whole class and said something along the lines of, "When you graduate, come to Cook because I'll be hiring 13 new engineers in the next few years." That interaction got me interested in Cook very early on.
What was your role in the establishment and development of OHNS?
After Thomas Cherry, our SBU leader, got the approval to establish OHNS, my manager called me into a meeting and asked me if I wanted to partake in a new adventure with a new business unit. We got started by going to an American Academy of Otolaryngology conference where we listened to clinicians identify needs we could address. I was very excited. I love the problem-solving aspect of having a clinical challenge and innovating a new solution for it.
What's your favourite part about leading our engineering team?
To me, the way that everyone collaborates together is my favourite part. Everyone knows of each other's projects and is always willing to help out. We all work very well together and we have a lot of fun.
What do you like most about interacting with clinicians?
One of my favourite parts of the job is interacting with clinicians. It is very helpful to understand challenges and needs in the medical field. When we are talking with clinicians, it's amasing how quickly solutions can materialise.