MedTech company encourages school guidance counsellors to work with industry to promote work placement programmes which give students an insight into working in careers relating to Science, Technology, Engineer and Maths (STEM)
Mid-West Career Guidance Counsellors visit Cook Medical as the company celebrate 20 years in Ireland this year
Industry needs to continue to work and collaborate with our educators to ensure Irish graduates have the necessary skills to take up jobs in the medical technology sector, said Cook Medical today.
Speaking at a recent visit of mid-west career guidance counsellors to the Cook Medical facility in Castletroy, Limerick, Alice O'Dwyer, Vice President, HR, Cook Group Europe outlined the positive impact that collaboration between guidance counsellors, the third level sector and Medtech companies such as Cook Medical, can have on shaping the future for graduates and ultimately industry.
'Working closely with secondary schools career guidance counsellors is a way for MedTech companies to ensure a thriving Medtech sector; which continues to grow and create jobs in the domestic economy.
Parents, teachers and guidance counsellors are some of the key influencers for students when choosing subjects for Leaving Cert. STEM initiatives, by companies such as Cook Medical, involving students, parents and schools are important as they open the door to the inside world of a company and provide insights which would not otherwise be available.  Work experience and summer work programmes which many companies make available to students are important building blocks in industry's approach to STEM.'
A focus of discussion during the visit concerned the need to encourage girls and women to consider careers in the STEM area. This discussion was held against the background of statistics showing the low number of females who complete engineering related courses in Ireland each year.  Cook Medical also highlighted the need for students to take honours maths at Leaving Cert in order to qualify for courses where they are required. Through discussion with employees at Cook Mecial, the career guidance counsellors got an understanding of the career paths of employees who have been successful in technical roles having studied pass maths.
Cook Medical is this year celebrating 20 years in Ireland. Established in 1996 the company develops, manufactures and distributes medical devices to customers across Europe, the Middle-East and Africa.
Employing 880 people in Ireland and specialising in the development of urology, obstetrics, gynecology and gastroenterology medical devices, the company exports worldwide from its Limerick facility.
The Medtech sector in Ireland is worth €12.5 billion to the economy each year, employing 29,000 people. The growth of this sector is likely to intensify as technology continues to revolutionise the Medtech industry, creating further job opportunities for graduates.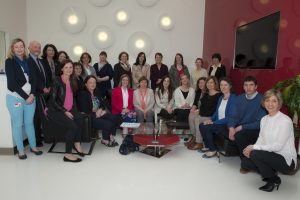 Mid-West Career Guidance Counsellors group with Alice O'Dwyer, VP of HR,  and Linda Edgeworth, HR, at Cook Medical's Innovation Centre in Limerick, Ireland