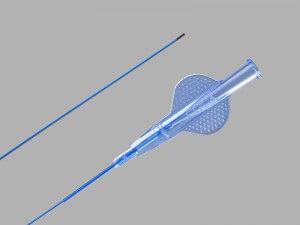 Limerick, Ireland, February 25, 2015. – Clinicians who treat obstructive salivary gland disorders now have the option of a specialised catheter designed to irrigate the salivary duct and flush out stone fragments. Cook Medical's SialoCath™ Salivary Duct Catheter is a flexible, soft-tipped, single-lumen catheter indicated for use in the submandibular or parotid glands. It can be inserted into a salivary duct over a wire guide or through a Kolenda Introducer Sheath.
'SialoCath provides clinicians with a minimally invasive tool for treating patients during in-office or surgical sialendoscopy procedures,' said Thomas Cherry, global leader of Cook's Otolaryngology – Head & Neck Surgery (OHNS) clinical division. 'The development of this catheter is part of Cook's long-standing commitment to creating innovative devices that fulfil clinical needs.'
SialoCath is one device in a growing suite of Cook Medical sialendoscopy access and interventional tools that are now available to clinicians in the United Kingdom, Germany, France, Italy, and North America.
For more information about SialoCath and other OHNS products, visit www.cookmedical.eu/otolaryngology and follow us on Twitter.
About Cook Medical
Since 1963 Cook Medical has worked closely with physicians to develop technologies that eliminate the need for open surgery. Today we are combining medical devices, biologic materials, and cellular therapies to help the world's healthcare systems deliver better outcomes more efficiently. We have always remained family owned so that we have the freedom to focus on what we care about: patients, our employees, and our communities. Find out more at www.cookmedical.eu, and for the latest news, follow us on Twitter and LinkedIn.