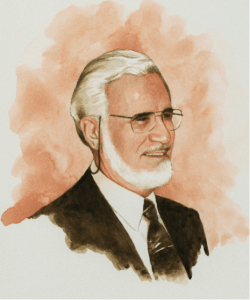 Editor's note:  On November 6 of 2016,  interventional radiology lost one of its true pioneers, Dr Constantin Cope. Dr Cope's contribution to the IR community will be forever felt through those who had the privilege of his training and mentorship. Certainly his work lives on through the many innovations that have changed medicine and patient care around the world. We honor Stan as a friend and true collaborator. We celebrate his life. Our deepest sympathy goes out to his family and those close to him.
Learn more about Dr Cope through the blog below posted more than a year ago.
Asked by his long-time financial adviser what he did for a living, Dr Constantin "Stan" Cope answered, "I tinker with things." His daughter was a teenager before she found out how important he was to his colleagues and to medicine.
In fact, Dr Stan Cope's contributions to the fields of angiography and interventional radiology (IR) have been enormous, and his collaboration with Cook Medical since the 1970s has led to an impressive list of innovative products, including:
Cook-Cope Type Loop, used in nephrostomy, biliary, and abscess drainage catheters
Cope Catheter Introduction Systems
Cope Gastrointestinal Suture Anchor Sets
Micropuncture® Introducer Sets
Silhouette® Transitionless Introducers
Reflections on the genius of Stan Cope
Joe Roberts (VP, Corporate Development) and Rick Mellinger (VP, Global Marketing) recently shared comments about Dr Cope.
Joe: "I first met him in 1979. At that time, a large percentage of the innovation in IR was coming out of the Pittsburgh, Philadelphia, and Boston areas, and out of Stanford University in Northern California. I was lucky to be in the right place at the right time. I remember, as a new Cook representative, I had visited Stan three or four times, and each time he had listened politely, not saying much. On this visit, I was singing the praises of a single-wall puncture needle, which is about as basic to an interventional radiologist as a nail is to a carpenter. Stan said: 'Could I see that?' He examined it carefully and said 'I bet I could even pick my nose with that needle.' I laughed, then he laughed, and we were great friends from then on. I think he was testing me."
Rick: "Stan didn't train as an interventional radiologist, but as a doctor of internal medicine. He had a fantastic mind for finding simple, elegant solutions for complex problems. He was a grand guru to his colleagues, but still very humble and understated in manner. He quickly established himself as a true pioneer in his field"
Joe: "He was a founding participant of the Philadelphia Angio Club, one of the best Angio Clubs in the country, and his colleagues would eagerly wait to see what he was developing. He would show up at the meetings and say without fanfare, 'Here's something I've been working on.' Then he would share a totally new approach that blew everyone away. He was always generous in sharing his knowledge and patiently gave as much time to colleagues, fellows, and patients as he could in order to solve a problem. He had a major influence on the interventional radiology fellows coming up in the field."
Rick: "In the early days many physicians developed very rough prototypes of products for use. The IR field was a hotbed of product innovation. When products came to Cook from Stan, they were fully developed prototypes. All we had to do was make them pretty."
"The locking Cope loop is a good example of an elegant solution to the problem of patients and healthcare professionals accidentally pulling out a catheter. The Cope loop meant that the catheter would stay in place unless specific steps were employed to remove it."
Joe: "Stan had developed the Cope loop and had shared it with colleagues, but at the time IRs were making it themselves by hand. Ernie Ring [Dr Ernest J. Ring, another IR pioneer] said to me, really annoyed. 'You guys could do this so much better! Why don't you guys make this thing? If you make them, we'll sell them to the world!'"
"I am, of course, a gadgeteer," Cope told Interventional News in 2004. "When a medical gadget gets widespread approval and is of clinical use I think that is the best reward one can receive for one's work. I am especially gratified that early techniques for transhepatic bile duct catheterisation, micropuncture vascular catheterisation, for anchoring abdominal hollow viscera, for percutaneous gall-bladder stone extraction and for thoracic duct embolisation have received widespread clinical acceptance. I was also interested in the early stages of TIPS." –Dr Stan Cope
Dr Cope was recently honored at a dinner that included Dr Cope, his family, his close colleagues, several IR fellows that he has influenced over the years, and a few close friends from Cook.
Cook presented Dr Cope with a framed piece of art that said:
Dr Constantin "Stan" Cope
Pioneer, Collaborator, Visionary
"Medical history isn't made by people who follow standard procedures. It's made by people with the vision to reinvent them."
Stan,
Your unique ability to develop simple solutions to complex technical problems has been the hallmark of your career. We deeply appreciate your long collaboration and friendship with Cook and your many contributions to medicine that have had a profound impact on the diagnosis and minimally invasive treatment of millions of patients around the world.
–Your friends from Cook
The story isn't over
Dr Maxim "Max" Itkin, Associate Professor of Radiology at the University of Pennsylvania and VA Medical Center in Philadelphia, trained as a fellow under Dr Cope. Dr Itkin and his associates' work in therapeutic lymphatic intervention would not be possible without Dr Cope's early work on development of techniques to access the thoracic duct. This important work is shedding light on the physiology and pathophysiology of the lymphatic system and the effects of minimally invasive techniques within it.
We can be sure that Dr Cope's influence, already vast, will endure and continue to inspire many years into the  future as interventional medicine continues its evolution while impacting millions of patients around the world.
---
Bio
Dr Constantin "Stan" Cope was born in Paris, France, on June 3, 1927. He and his family escaped to London in 1938 just before their building was bombed during World War II. He received his Bachelor of Science and Bachelor of Medicine degrees at London University, and his Medical Degree at New York Medical College in 1951. He interned at King's County Hospital from 1951-1953, and became a U.S. citizen. Dr Cope held a variety of professional appointments. He was Staff Physician and Chief, Vascular Roentgenology Section, Department of Diagnostic Radiology, at the Albert Einstein Medical Center in Philadelphia, PA, from 1963-1986. From 1986 to 2004, when he retired as Professor Emeritus, he served at the Hospital of the University of Pennsylvania's Angiography/Interventional, Radiology Section, Department of Radiology, as Staff Physician and Acting Chief. He has authored or coauthored over 200 scientific articles, and was the lead author of the Atlas of Interventional Radiology (1990).
Dr Cope has been recognised by numerous societies for his contributions, and in 2004 he received the SIR Foundation's Leaders in Innovation Award.