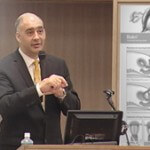 Professor Chris Georgiou of the University of Wollongong, New South Wales, spoke at the 125th meeting of the Kanto Society of Obstetrics and Gynecology in Japan. His lecture, 'Balloon Tamponade Technology in the Management of Postpartum Haemorrhage: Methodology, Mechanisms of Action and Future Fertility', was well received by the attending physicians.
Dr Naohiro Kanayama of Hamamatsu University School of Medicine chaired the session and led an engaging Q&A. He provided practical guidelines for use and shared his findings from several case studies, which emphasised the importance of uterine-sparing procedures in cases of postpartum haemorrhage.
Download Prof Georgiou's paper, published by BJOG: An International Journal of Obstetrics and Gynaecology.