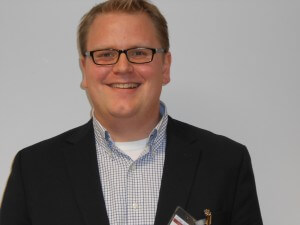 Christoph joined Cook in 2013 and has been with OHNS from the beginning.
What did you do before joining Cook?
I studied Biomedical engineering and then worked as a Clinical Representative in the Cardiology field for several years. I supported Defibrillator implants on a daily basis and gained a lot of clinical background during that time.
When did you first join Cook?
I joined Cook in October 2013.
How long have you worked in OHNS?
I have worked in OHNS from the beginning and was one of the first Sales Representatives in Europe.
Why do you like working with the OHNS team?
Working with the OHNS team feels like working for a start-up business with the support of a big organisation behind it. Everyone is excited about our new technologies and innovative products and is eager to do their part to get it to patients. It also means we are laying the foundation for a new partnership between Cook and the Otolaryngology area.
What's the first thing you do every morning?
I'm guilty of checking emails and reports first thing every morning. Did any urgent requests come in after I finished the day before? How are our stock levels looking? Were there updates on any development projects? On second thought, this comes after I had the first coffee of the day!
What's your favourite part of the job?
I love working with an international team, it allows me to learn from different cultures and backgrounds and keep an open mind.
Interesting fact about yourself
I like to go fishing as a hobby and although I like to stay connected most of the time with email and phone, I leave my smartphone at home when I go fishing and will not be reachable for the day.