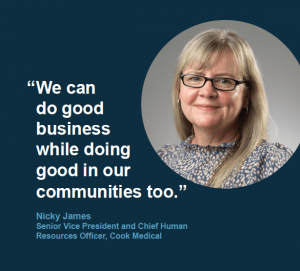 For Cook, Corporate Social Responsibility is about more than just philanthropy or tracking environmental data. It's about using our core business opportunities, skills, and resources to not just do good business, but do good in the world.
When people do business with Cook, we want them to know that we have a unique portfolio of medical devices but also that they are doing business with a company that understands its obligations to be an active partner in making our communities better. We're not your typical company.
We believe that it's the responsibility of all businesses, not just Cook, to use our resources, skills, and opportunities to elevate the communities that we operate in by being actively engaged. It ties into our fundamental belief that it is possible do good business and do good in the community, too.
Leadership
Cook Medical wins Women in Leadership Award at Irish MedTech 2021
Cook Medical was honoured with the Women in Leadership Company Initiative Award at the Irish MedTech Awards, which were held virtually on December 2, 2021. The award recognises companies that actively take steps in a dedicated initiative to increase the number of women in the MedTech sector and specifically in leadership positions. Read the full release here
Cook Medical wins Women In Leadership Award at Irish MedTech Awards | Newsroom
Attracting and developing top talent with culture
Alice O'Dwyer, Vice President of Human Resources at Cook Group Europe, speaks about the importance of supporting female leaders in the MedTech sector and how Cook Medical creates an inclusive environment for all its employees. Read the full article on page 7: Medtech Rising 2022
Environment
Cook Medical is committed to responsible and sustainable business choices across our business
Cook Ireland has gone the extra mile to meet international standards for environmental practices. Since 2019, our Limerick location's dedication to environmental sustainability at work has earned and retained ISO (International Organization for Standardization) certifications for the following standards:
ISO 14001—For meeting all requirements to minimize our operation's negative environmental effects
ISO 50001—For meeting all requirements for energy efficiency
Also, since 2019, our carbon footprint has been significantly reduced. We aim to continue measuring and reducing our entire carbon footprint in line with the Paris Agreement and the latest findings from the Intergovernmental Panel on Climate Change (IPCC).
View Cook Ireland CSR Report 2021.
View Cook Ireland's Environmental Commitment and Environmental Policy.
At our Cook Medical Headquarters, we implemented 3,000 Solar Panels to Invest in Sustainable Energy
At the beginning of 2022, Cook Medical began installing solar panels on several buildings at Cook's headquarters. About 3,000 solar panels now line the rooftops at Cook Medical's headquarters. This project, to invest in sustainable solar energy is on of Cook's most recent initiative to create cleaner, healthier communities.
Incorporating solar panels and other forms of renewable energy is an important step to reduce our carbon footprint. Erin Kunkel, Corporate Social Responsibility Manager at Cook Medical, speaks about the importance of solar panels as a renewable energy source.
Community
Cook Medical Mini Marathon, Limerick
Over the past 7 years Cook Medical have sponsored Limericks Mini Marathon, the race which is now in its 24th year, allows participants of all ages to run, jog or walk 10km while raising much needed funds for local charities. Last year the event raised over €43,177.
Our sponsorship in this event is ingrained in our commitment to the people in our community and surrounding mid-west region which truly reflects one of our core values, which is giving back to our communities.
Read the full press release for the 2022 Cook Medical Mini Marathon
38th and Sheridan Community Collaboration, Indianapolis, Indiana, US
We're proud to work in collaboration with partners on a community development effort by building both a manufacturing site and a grocery store in Indianapolis. Located at the northwest corner of 38th Street and Sheridan Avenue, the project will help people and communities reach their full potential. The story below is one of many stories about the impact of this project. Find out more: http://www.38thandsheridan.com/.
Stone Belt Bloomington, Indiana, US
Stone Belt is a nonprofit organization that provides resources and supports for individuals with disabilities. This work provides Stone Belt clients essential job skills and the ability to contribute to their community in a meaningful way.  Stone Belt and Cook Medical have worked together to manufacture medical devices to help patients for over four decades. Anna, a Stone Belt client, is proud to manufacture medical devices for Cook Medical. Hear Anna's story here.