Cook Medical has announced Pat Burke as the new vice president and general manager of its Ireland manufacturing facility, based in the National Technology Park in Limerick. In this role, Burke will oversee the day-to-day running of Cook Medical's manufacturing operations in Ireland.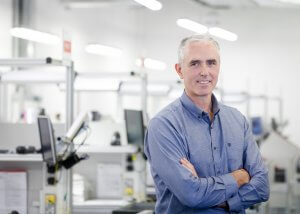 "I am fortunate to work with a talented leadership team and a workforce committed to meeting and exceeding the high standards required in today's medtech environment," said Burke. "It is really exciting to take on this challenge and lead this part of the Cook Medical organization."
Burke joined Cook Medical in 2002 as manufacturing manager and quickly moved to the role of operations manager. In 2009, he became director of operations.
Bill Doherty, executive vice president EMEA and managing director of Cook Medical Europe, will continue to lead and coordinate Cook Medical's business in EMEA.
"Pat has been at the forefront of our continuous improvement journey. This new role focuses on our manufacturing systems and processes in Ireland. Pat will also play an important part in Cook Medical's global manufacturing operations," said Doherty. "I look forward to working closely with Pat in his new position to meet our company's mission to serve our customers and patients."
Cook Medical's facility in Limerick employs more than 850 people and, in addition to manufacturing, hosts a large research and development group and is the European Customer Support Centre.
About Cook Medical
Since 1963 Cook Medical has worked closely with physicians to develop technologies that eliminate the need for open surgery. Today we are combining medical devices, biologic materials and cellular therapies to help the world's healthcare systems deliver better outcomes more efficiently. We have always remained family owned so that we have the freedom to focus on what we care about: patients, our employees and our communities. Find out more at cookmedical.eu, and for the latest news, follow us on Twitter, Facebook and LinkedIn.