Novas Ireland and Cook Medical have launched a brand new art therapy studio on the grounds of Brother Russell House, Limerick. The purpose-built studio was the culmination of a partnership between Cook Medical and Novas, which saw Cook and its employees raising money for the build.
Mayor of Limerick Francis Foley officially opened the studio, alongside CEO of Novas Una Deasy and executive vice president for EMEA and managing director of Cook Medical Europe, Bill Doherty.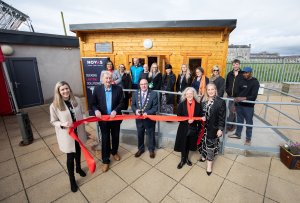 Speaking at the launch, Una Deasy, said, "We are absolutely delighted with the art studio. Art has always been important to our residents and now they have a dedicated space that is easily accessible andwill really enrich their experience here.
We are so grateful to Cook Medical for making this new studio a reality. Without their support for the last four years, it would not have been possible. As well as donating the money to purchase and renovate this studio, they have been personally invested in the project and have made the process so collaborative."
Bill Doherty, added, "We're so glad to see the results of our partnership with Novas coming to life. I would like to thank our employees and the staff at Novas for their passion and dedication in making this partnership so successful. We hope the art space will be enjoyed by the residents of Brother Russell House for years to come."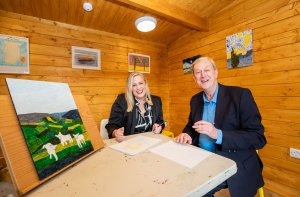 Cook Medical's commitment to improving people's lives extends beyond the patients they serve to the communities in which they operate. They do this not only because it is good business, but because they believe that being a good corporate citizen is the right thing to do.
Brother Russell House provides supported accommodation for people with intellectual, physical and sensory disabilities who are experiencing homelessness. Art therapy has proved to be a very successful way of supporting residents to address trauma.