The 2021 Cook Medical Women's Mini Marathon was launched today, Monday, August 9, by Limerick Mayor Daniel Butler at The Limerick Strand Hotel. Now in its 23rd year, the race will take place from September 24-26 as a virtual event, with €10 from every entry fee going to charity.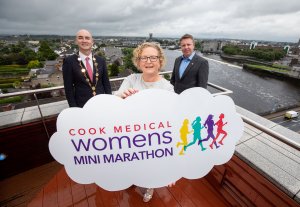 The event's planners hope that this year's race builds on the success of last year's virtual event, which raised over €37,000 for different charities. Participants of all ages will run, jog or walk the 5k and 10k race in their own time across the race weekend to ensure safety of all competitors and to adhere to social distancing and government advice, while raising funds for personally chosen charities in Limerick, the Mid-West, and nationwide.
John Cleary, race director for the event, commented, "2021 has been a very difficult year for everyone. It's important for us, now more than ever, to continue events like the mini marathon to bring people together in a safe way. We are looking forward to seeing women of all ages and abilities taking part from September 24-26."
Cook Medical, which celebrates 25 years in Limerick this year, has been the title sponsor of the Women's Mini Marathon for six years, a sponsorship that has been extended until 2024.
"After an incredibly hard year for us all in Limerick, we are delighted to once again host our virtual mini marathon," said Angela Moloney, director of Ethics & Compliance, EMEA, at Cook Medical, "Cook Medical has a long-standing commitment to the people of Limerick and the Mid-West, dating back to our arrival in 1996. As part of this commitment, we're proud to sponsor such an important event, which promotes health and fitness, while also giving back to charities that need it now more than ever."
To register for the Cook Medical Women's Mini Marathon, visit limerickminimarathon.com.