Cook Medical has initiated a global, voluntary recall of all catheters with Beacon® Tip technology. This recall includes all lots of catheters with the Beacon Tip technology. The catheters were recalled in the U.S. on April 15, 2016 and April 21, 2016 in Europe due to complaints of tip splitting and/or fracture. The U.S. Food and Drug Administration (FDA) has not yet classified the recall. A complete list of products affected by this recall can be found below.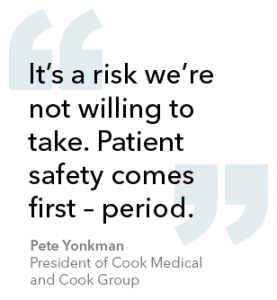 Catheters with Beacon Tip technology have been found to exhibit polymer degradation of the catheter tip, resulting in tip fracture and/or separation. Most of the fractures and/or separations were discovered prior to patient contact. The FDA and other regulatory agencies around the world have been notified of this action.
In 2015, Cook recalled specific lot numbers of Beacon Tip catheters and then expanded that recall to all 4 French lots. Due to an increase in complaints about tip splitting and/or fracture, in April 2016 Cook has now recalled all lots and sizes to assure patient safety around the world.
"We've been investigating a variety of factors including environmental influences and it's been difficult for us to reproduce the exact failures that our customers have experienced," said Pete Yonkman, president of Cook Medical and Cook Group. "If we cannot tell our customers how to keep our products safe, then we aren't comfortable leaving them on the market. It's a risk we're not willing to take. Patient safety comes first – period."
---
Affected products
Product Brand Name
Catalog Identifier *
Lot Number
Beacon® Tip Torcon NB® Advantage Catheter
HNBR5.0
HNBR6.0
All lots
Beacon® Tip Royal Flush® Plus High-Flow Catheter
HNR5.0
All lots
Beacon® Tip Centimetre Sizing Catheter,
Beacon® Tip White Vessel Sizing Catheter,
Beacon® Tip Vessel Sizing Catheter
NR5.0
All lots
Shuttle® Select Slip-Cath
SCBR5.5-/-SHTL
SCBR6.5-/-SHTL
All lots
Slip-Cath® Beacon® Tip Catheter
SCBR5.0
SCBR5.5
SCBR6.5
All lots
FluoroSet® Radiographic Tubal Assessment Set
J-RTAS-100
All lots
Haskal Transjugular Intrahepatic Portal Access Set
HTPS
All lots
Kumpe Access Catheter
023565-BT
All lots
Liver Access and Biopsy Needle Set
LABS-100
LABS-200
LABS-200-CHP-A
All lots
Neff D'Agostino Percutaneous Access Set
NPAS-100-D'Agostino-B-050393
All lots
Aprima™ Access Nonvascular Introducer Set
NPAS-/-SST
NSSW-/-SST
All lots
Selective Salpingography Catheter with Beacon® Tip
J-SSG-504000
All lots
Transluminal Biliary Biopsy Forceps Set
BBFS-100
All lots
White Lumax® Guiding Coaxial Catheter
LMGRF-7.0C-80-MPA-PULM
All lots
Transjugular Intrahepatic Portosystemic Shunt Procedure Pack
TIPSS-100
TIPSS-200
All lots
Zenith Alpha™ AAA Endovascular Graft Procedure Pack
ZAPP-A
All lots
Zenith Alpha™ TAA Endovascular Graft Procedure Pack
ZAPP-T
All lots
Zenith® AAA Endovascular Graft Start Up Kit
ESSK-2
ESSK-3
All lots
Zenith® AAA Endovascular Graft Procedure Pack
ESSK-3FR
ESSK-AAA
All lots
Zenith® t-Branch Endovascular Graft Procedure Pack
ESSK-T-BRANCH
All lots
Zenith® Thoracic Endovascular Graft Procedure Pack
ESSK-T
All lots
A full list of affected products along with Reference Part Numbers (RPNs) and Global Part Numbers (GPNs) 
---
Recall return information
All customers affected by the recall will have received a customer letter advising on action to be taken. The letters requested that all customers and distributors collect all remaining affected products distributed between April 2013 and April 2016 from their inventory and complete an enclosed Customer Response Form.
All Customer Response Forms and questions should be directed to European.FieldAction@CookMedical.com or alternatively by fax to Cook Medical marked for the attention of European Customer Quality Assurance (fax number +353 61 334441). Do not enclose the response form with the returned product.
Where product is indicated as being returned Cook Medical Customer Services department will contact the customer to organise the return and any credit.
Product should be addressed to:
Cook Medical EUDC GmbH
Robert-Koch-Straße, 2
52499 Baesweiler
GERMANY
---
Potential adverse events
Potential adverse events that may occur as a result of catheter polymer degradation could include loss of device function, separation of a device segment leading to medical intervention, or complications resulting from a separated segment. Such complications include device fragments in the vascular system, genitourinary system, or other soft tissues. Fragments within the vascular system could result in embolisation to the heart or lungs, or occluding blood flow to end organs.
---
Adverse event reporting
Please report any adverse event to Cook Medical Customer Relations by contacting our Customer Services Department.
For Customer Service Contact details please select your relevant country on /connect/