Three Interventional Radiologists recently spent time at our headquarters in Bloomington, Indiana, U.S.A.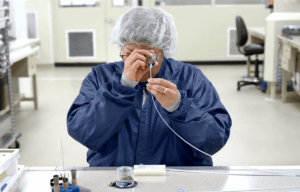 When physicians come to Cook, we like to take them through the manufacturing plant to show them how the products they use every day are made. They often comment that the most meaningful part of their visit is the chance to meet the people who craft our devices – by hand.
We'd love to bring everyone to Bloomington for such a visit, but as an alternative we're sharing stories like Becky's. Here's what the three doctors thought about Becky's story:
"The most amazing thing is seeing the detailed work that goes into each product. That's what this video does for me."
"I had no idea that every single sideport hole was checked. Next time I open a product, I'm going to think about the detail that people like Becky put into making a product."
"I kind of had tears in my eyes watching this. It's powerful."
It's that connection that makes a difference. It's a reminder that every sideport on every catheter is checked by a person whose quality control standard is making sure that they would want that product used on their own family members.
Have you ever wanted to take a look inside Cook? Take a peek at our sideporting video and join the conversation on Twitter using the hashtag #insidecook.