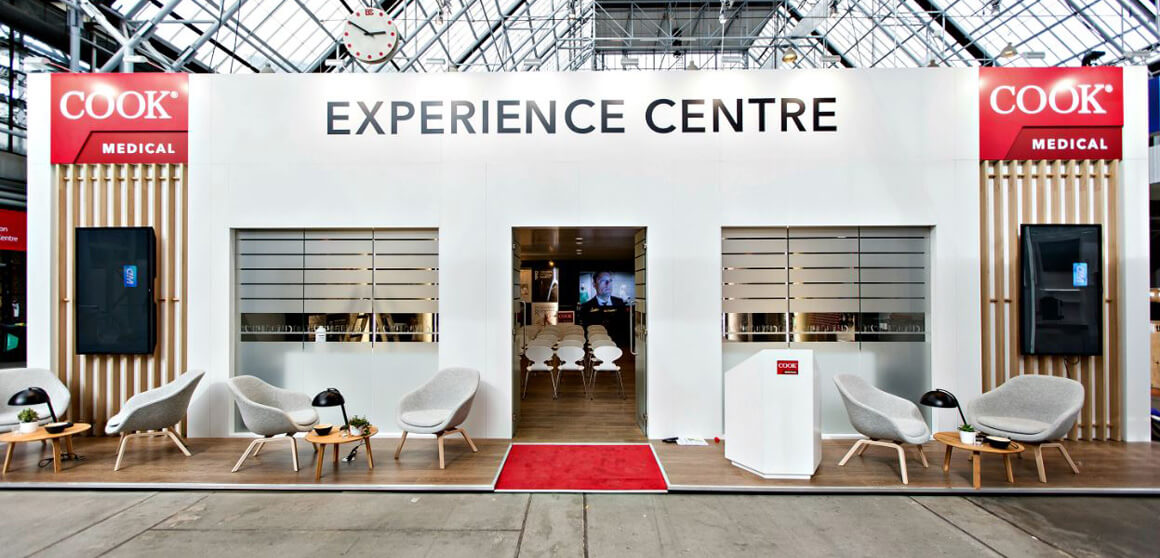 Thousands of interventional radiologists from around the world gathered in Copenhagen from 16-20 September to hear about disease states, treatment modalities, and new technologies in the field.
CIRSE (Cardiovascular and Interventional Radiological Society of Europe) is an annual global congress designed to "improve patient care through the support of teaching, science, research, and clinical practice in the field of cardiovascular and interventional radiology." Cook has been a part of CIRSE since its first congress in 1985.
To augment the educational experience for attendees, Cook Medical provided three days of dynamic and interactive programs that focused on the latest treatment modalities in liver, venous, and arterial diseases. These informal presentations provide congress attendees an opportunity to gain access to the top minds in IR.
Presenters focused on therapies and techniques for embolisation, deep-vein thrombosis, below-the-knee disease, and more. Many shared some of their own cases that helped attendees gain knowledge on how to deal with similar situations they might face in their facilities.
The Cook Experience Centre offered an intimate setting for people to meet with leading specialists in the field, said Henrik, a product manager for BTK therapies. "Dr (Mariano) Palena spoke on the big stage on Sunday. It's probably intimidating to ask questions when there are 300-400 people in the room," he said. "But, the next day, he spoke in the Cook Experience Centre about tools and techniques for improving and optimising BTK success rates. The environment was comfortable and casual and attendees felt free to ask many questions."
The physicians who presented in the Experience Centre were very gracious with their time, he added. "Dr Palena came 15 minutes early and stayed 20 minutes afterward to keep talking to the attendees. I could see it was very much appreciated."
Watch CIRSE interview Dr Rick de Graaf on endovascular venous therapies for its Technology Spotlight in the Cook booth.
In addition to the presentations in the Experience Centre, Cook sponsored a well attended panel discussion in the main auditorium on drug elution, with some of the world's leading specialists on peripheral arterial disease. Dr Michael Dake moderated sessions that focused on how to best serve patients by leaving the right thing behind in the superficial femoral artery.
"The panel spoke about vessel preparation, the differences between DCB and DES, and treating with drug-eluting technology in the SFA," said Helle, product manager for PAD therapies. "They also discussed endovascular treatment versus bypass, cost effectiveness, and distinguishing the way studies present the evidence and how they may or may not compare to competitor studies."
Cook also provided hands-on training sessions for medical students deciding on a specialty program. Participants learned about basic products and procedures and got a feel for the devices used to treat different areas of the body.
"The students learned about the steps and techniques involved with selected devices and were able to perform a procedure on a demo-model. They had the chance to ask as many questions as they would like," said Wouter, an IR training coordinator leading one of the hands-on sessions. "They learned about IR, PAD, and venous devices and were able to get ideas and a good first impression of our products and procedures."
Also in line with CIRSE's call to "Impact the Future of IR," the Cook Experience Centre featured a wall taking attendees from the history of IR (first recorded IV injection in 1665) to the father of IR (Charles Dotter's video on angioplasty), to modern day therapies (first 3D printed liver tissue goes to market in 2014), and into an imagined future.
The Cook booth was a comfortable place for physicians to gather to have discussions over some of Copenhagen's finest coffee. "We celebrated the return of CIRSE to Copenhagen with a modern booth design that allowed us to engage with attendees who visited our booth and Experience Centre," said Casper, global brand marketing manager for IR. "We look forward to an equally successful congress at LINC 2018."
We invite you to watch the video below to see the impact and power of collaboration in the past, present and into the future. Please join us on this journey.
See you in Lisbon 22-26 September for CIRSE 2018!