In this series we meet members of the Endoscopy team from different regions around Europe. This month we talk to Stephen, our Regional Manager for UK and Ireland.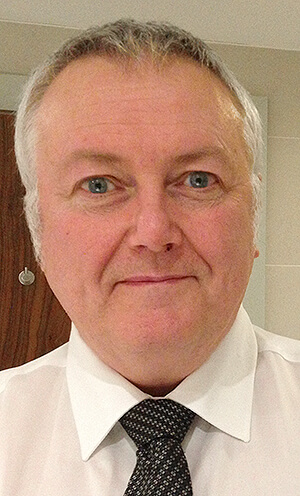 1. What is your current position with Cook Medical and how long have you been in this position?
I am the Endoscopy Regional Manager for UK & Ireland and have been working in this role for about 5 years now.
2. What is a typical day like for you?
Every day is different but essentially a hotchpotch (sometimes a blur) of trains, meetings, e-mails, hotels, telephones, resolving issues, interviews, eliminating problems that might arise… and a few giggles en route.
3. What, in your opinion, makes Cook Medical a unique company?
The ethics. The emphasis on both patient outcomes and clinical education, and the business model. These might not sound unique but they are at Cook Medical, it's the level of focus that makes the difference. I guess Bill Cook got the priorities stacked in the right order from Day 1 (before my time) and thankfully there is a passion to maintain them.
4. What about Cook Medical makes you most proud?
Several things. Compliance and ethics are fundamental and deeply integrated into the fabric of the company, not just words on a flag to wave to the world. There are no shareholders to go 'cap in hand' to, so to survive, and grow, Cook Medical has to continue to innovate and it has continued to do that for decades. Very impressive. My UK & Ireland Endoscopy Team makes me incredibly proud. They embody commitment, enthusiasm and fantastic customer service. The best I've seen in my 30 years in GI Endoscopy. … I could go on.
5. We are constantly striving to be innovative in Cook Medical. Tell me how you see this in action in the field.
As good as they are, booming sales and amazing feedback following the introduction of new technology, pale into insignificance next to the global impact of innovation on the health and wellbeing of the next patient through the door. Being responsible for sales you sometimes have to stand back and think about that, but it's not difficult in Cook.
6. What do you like to do when you're not working?
Family, house and hounds take up any spare time I have but having survived several accidents and disasters involving electricity, power tools, boiling water and expanding foam, I'm now a reasonably competent DIY'er and have managed to install kitchens and bathrooms etc. over the years. However, it never ends and there's always something else to do. I used to be passionate about fly-fishing and motorbikes but both seem to have taken a back seat recently because I'm too busy. (Never too busy to watch an action, sci-fi or fantasy movie though.)