Drs Carr-Locke, Saltzman, and Soetikno discuss and demonstrate why they feel the Instinct is the best clip on the market!
With the new Instinct,® "clip delivery could not be simpler"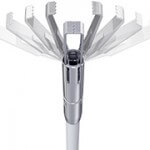 When Cook Medical began developing a new endoscopic clip, the overarching goal was clear: to give clinicians exactly what they need to efficiently deliver the best care possible to patients with GI bleeds. As part of the process, the company sought out the opinions and expertise of three renowned gastroenterologists, who suggested attributes for such a device. Cook incorporated the needs and inputs of this team into the design of the new Instinct Endoscopic Haemoclip to achieve that overarching goal.
"The Clip Team consisted of myself, Dr Roy Soetikno (Chief of GI Endoscopy, VA Palo Alto Health Care System, Palo Alto, CA) and Dr John R. Saltzman (Director of Endoscopy, Brigham and Women's Hospital, Boston, MA)," says Dr David Carr-Locke, Chief of the Division of Digestive Diseases, Beth Israel Medical Center, New York, NY. The team put together a "wish list" of innovative characteristics that could improve clipping procedures. Some of the features the team desired in a new device include: a wider clip opening span, simple deployment and detachment, complete clip rotation, and excellent control capabilities, among others.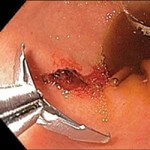 "We found that some clipping devices were frustrating for clinicians," says Dr Carr-Locke. "The clips and delivery systems out there were just too difficult to control and not intuitive, which resulted in misfirings and/or wasted clips. But with the Instinct, once initial resistance is felt, you simply continue closing the clip until it is released from the delivery catheter. Clip delivery could not be simpler."
The Instinct also addresses the team's concerns regarding clip rotation and control, according to Dr Carr-Locke. "The Instinct can rotate a full 360 degrees in either direction with proportional rotation between the handle and the clip itself. And the clip can be opened and closed intuitively because of the precise relationship between the handle and the clip. That is an important innovation of this new device."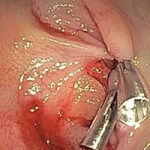 The Instinct has other important features that other clips are lacking, according to Dr Carr-Locke. "At 16 mm, the wings of the opening of the clip are wider than the 11 mm opening span of other clips, are adjustable and have internal nitinol strips for added strength. The clip has anchoring tips that effectively fasten the clip into tissue upon closure. These attributes make the Instinct better than what we've had before," concludes Dr Carr-Locke. "But, of course, the ultimate goal, as with any new device, is to improve patient care. Cook has achieved just that with the Instinct. The design and functionality of this device give clinicians an exciting new option for haemostasis, and, more importantly, a new way to help patients all over the world."
Learn the "History of Clipping" from Dr. David Carr-Locke