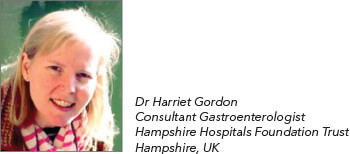 Collaboration among several endoscopic ultrasound centers in the UK has led to significant improvements in how practitioners are diagnosing and staging pancreatic cancers, reports Harriet Gordon, MD, a consultant gastroenterologist with the Hampshire Hospitals Foundation Trust.
In a recent article authored for Cook Medical's Channel newsletter, Dr Gordon says endoscopic ultrasound (EUS) is considered the gold standard for viewing pancreatic masses and gathering histology. The procedure has a higher diagnostic accuracy than CT-guided biopsy. It also provides critical information about nodal disease and vascular structures that can facilitate cancer staging.
In 2012, several EUS centers in Wessex banded together to evaluate, audit and optimize techniques and outcomes. The sensitivity rate of the fine needle aspirations (FNA) used to detect pancreatic cancer became a focal point. High sensitivity rates are critical to a successful diagnosis.
Data gathered in 2013 showed a baseline FNA sensitivity of 84%. After adopting new standards and practices, the sensitivity for pancreatic FNA increased to 96%. When a technician was in the room for rapid on-site evaluation of samples gathered, 99% sensitivity rates were achieved.
Dr Gordon says the improvements made are allowing practitioners to confidently diagnose and stage a cancer at time of a patient's visit.
"Endoscopic ultrasound of the pancreas, with a view to FNA, is now the commonest indication for EUS in our practice," Dr Gordon writes. "It seems likely that this will continue given that the information generated has improved to satisfactory standards."
Cook Medical has sponsored the Regional Networking Meetings since 2013.
Dr Harriet Gordon is not a paid consultant of Cook Medical.
References:
1Pancreatic cancer statistics, www.cancerresearchuk.org
2Richter A, Niedergethmann M, Sturm JW, et al. Long-term results of partial pancreaticoduodenectomy for ductal adenocarcinoma of the pancreatic head: 25-year experience. World J Surg 2003;27(3):324-9
3Amikura K, Kobari M, Matsuno S. The time of occurrence of liver metastasis in carcinoma of the pancreas. Int J Pancreatol
1995;17(2):139-46
4Indications, results, and clinical impact of endoscopic ultrasound (EUS)-guided sampling in gastroenterology: European Society of Gastrointestinal Endoscopy (ESGE) Clinical Guideline 2011
5Hewitt MJ et al. EUS-guided FNA for diagnosis of solid pancreatic neoplasms: a meta-analysis. Gastrointest Endosc 2012; 75(2): 319-31
6The sensitivity of EUS FNA of solid pancreatic lesions, working from a regional MDT and within a regional network, Harriet Gordon et al BSG 2014
7Cherian et al HPB 2010, 12 (6): 389-395
8Manzia et al Annals of RC Surgeons England 2010, 92 (4): 295-301