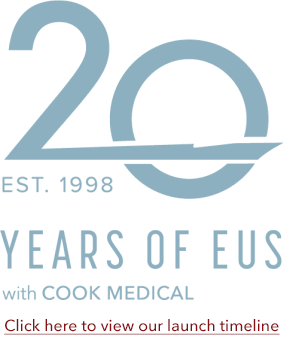 As Cook Medical celebrates 20 years of innovation in the field of endoscopic ultrasound, we want to take a moment to reflect on the developments in medicine that led to this unique modality and Cook's role in leading EUS innovations.
A new modality
A revolution in endoscopy occurred 30 years ago, when clinicians asked a simple question: "Is it possible to improve the accuracy of imaging for the pancreatobiliary system through an ultrasound probe within the gastrointestinal tract?"1
Efforts to answer that question began the fascinating journey into a brand-new modality: the field of Endoscopic Ultrasound. EUS uses high-frequency sound waves to produce detailed images throughout the digestive tract and the surrounding tissue and organs. While this was an important initial step forward, it is the innovative developments over the past 20 years that have truly secured EUS a prime place in endoscopy.
Collaborating with clinicians
Cook immediately recognized that this new, minimally invasive technique held great promise for patients and the clinicians who help them. In fact, we were so inspired that we established a team of five engineers who began working directly with some of the world's foremost endoscopists and echoendoscopists to understand the needs of both the physician and the patient that this new technology could effectively address. Those collaborations led Cook to develop and prototype a new device that would forever change the EUS landscape.
The FNA breakthrough
At the inaugural DDW congress in 1998, Cook debuted the ground-breaking EchoTip® Endoscopic Ultrasound Needle—a truly revolutionary device that brought fine needle aspiration capabilities to the endoscopy market. The EchoTip needle took EUS to the next level, giving physicians an important new tool to diagnose their patients.
Prior to this breakthrough, tissue samples had to be obtained through more invasive percutaneous procedures. Cook believed that creating a less-invasive modality could have significant benefits for patients and clinicians.
With the EchoTip needle, now it was possible for endoscopists to reach suspicious GI lesions and adjacent organs—including the liver, bile ducts and pancreas—giving physicians the ability to diagnose many different types of GI malignancies.
Further studies in the new millennium solidified the role of EUS FNA as the first-line modality for diagnosing pancreatic cancer.
The FNB breakthrough
The EchoTip needle was just the first of Cook's EUS breakthroughs. Another major gamechanger came in 2011 with the EchoTip ProCore®. The ProCore was the first EUS needle to enable the acquisition of core specimens for histologic analysis. This development pioneered the use of fine needle biopsy in the field of endoscopy and initiated important discussions regarding "cytology vs. histology," a topic that has been the subject of numerous fascinating studies.
"Our company's early efforts and subsequent two decades of continuous innovation in the EUS market was fuelled by our mission to make a positive difference in patients' lives every day. What's amazing is that the opportunities for innovation in this field are endless. At Cook, we remain firmly committed to maintaining our role as an innovator, shaping the bright future of EUS." — Barry Slowey, President, Cook Medical Endoscopy division
Advancing Ahead
After 20 years in the EUS field, Cook continues to explore unique devices, to uncover new capabilities and to refine existing capabilities. We love bringing exciting innovations to this field—from EUS-guided fine needle aspiration to celiac plexus neurolysis, from access to histology to the endoscopic placement of preloaded fiducial markers.
Cook's goal is to continue its innovative role in EUS, working ceaselessly to expand the capability of EUS procedures. And, as those capabilities grow, we will continue to create the widest assortment of clinical solutions that give physicians more and better ways to efficiently and effectively care for their patients.
Learn more about our Endoscopic Ultrasound Needles and devices.

Reference
1. Progress in Endoscopic Ultrasonography, Frank G. Gress and Charles J. Lightdale. Oct 2017, Gastrointestinal Endoscopy Clinics of North America Vol 2 No 4.