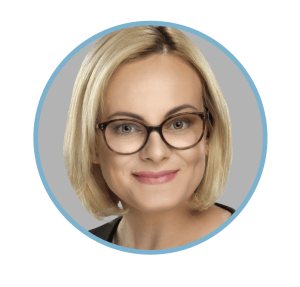 Agnieszka joined Cook Medical as the only current Critical Care (CC) sales representative in Poland in October 2016. She holds a degree in public health and a postgraduate degree in medical business management from the Medical University of Warsaw and the Warsaw School of Economics, respectively.
Primarily, her role is to provide education and training on, in addition to selling, CC products to physicians and other healthcare professionals in the intensive care, anaesthesia, and emergency departments of hospitals throughout Poland. Agnieszka covers all of Poland and has the opportunity to service the country's approximately 800 hospitals.[1]
---
Approximately 90% of the medical device buying business in Poland, according to Agnieszka, is done through a tender service, similar to a contract, between a hospital and a medical device distributor. Most hospitals tend to renew their tender service yearly without first speaking to the hospital's physicians about the specific order details, she said.
'When the hospital sees that a contract is about to finish, many times, they just renew it', she said. 'They don't always contact their physicians before they do it'.
There are also problems involved when a hospital signs a new tender, Agnieszka said.
'Sometimes, when the hospital staff receives new products, they don't know who bought it or which physicians are the intended users', she said. 'Physicians often don't get asked about what they need prior to the hospital signing a tender, so it's a big communication problem between the purchasing department and the physicians. This is an opportunity for me to bridge those communication gaps'.
Knowing this, Agnieszka said she primarily focuses on training physicians in hospitals that may not be familiar with Cook products.
'Training is a big differentiator', she said. 'This is a good chance to show our support for them. Not all companies show physicians how their products are supposed to work, so it's a good way to promote Cook and its products while creating better relationships with the hospitals'.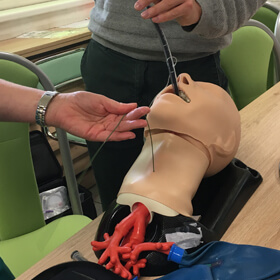 She said she mainly focuses on percutaneous tracheostomy, intubation, and extubation in her training workshops.
Agnieszka works in close collaboration with HAMMERmed, the local Cook distributor in Poland. They supply products all across Poland, and their partnership with CC includes the provision of customer service support, order processing, and the supply and delivery of products to hospitals throughout Poland.
'When I'm in a hospital, I promote the products and give the hospital substantial support, including all of the information that tells them where they can purchase Cook products', she said.
Tender agreements are regulated by the Public Procurement Law of 2004.[2] In Agnieszka's experience, she said that some tender agreements can depend completely on price, where the company that offers the lowest price wins, she said.
In other instances, there can be a percentage ratio, she said. For an example, 60% of a tender can depend on the price of the products while 40% depends on the quality.
'For some tenders, hospitals are only looking at price', she said. 'However, for other tenders, quality is a factor. For these situations, we're able to send samples so that they can see the difference for themselves. Because I'm in the field and I'm able to personally send the samples to hospitals, it's a big benefit when we're competing with other companies'.
Though she is only a few months into her new role with Cook, Agnieszka said she's had a very positive experience so far.
'Cook already has a great reputation within the Polish market, and now I have the opportunity to help that reputation grow throughout the country', she said. 'I really value being able to work for a company that is so dedicated to helping physicians learn and develop their skills in order to achieve the best possible outcomes for their patients'.
Get stories like these sent to your email.
Sign up for our quarterly email newsletter to receive physician stories, product news, training opportunities, and more in your inbox.
---
Citations
[1] 10 Trends in Polish Healthcare 2016. PricewaterhouseCoopers. http://www.pwc.pl/en/artykuly/2016/10-trends-in-polish-healthcare-2016.html. Accessed May 30, 2017.
[2] Information about Polish public procurement system of relevance to contractors applying for public procurement contracts in Poland. Urzad Zamowien Publiczynch. https://www.uzp.gov.pl/__data/assets/pdf_file/0017/21284/PP20system20in20Poland_final20version.pdf. Accessed May 30, 2017.