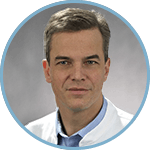 Tilo Kölbel, MD, is professor of vascular surgery at University of Hamburg in Hamburg, Germany. Dr. Kölbel shares his experience treating dissection.
How is the approach different for a patient with an aneurysm versus a dissection?
There are a lot of fundamental differences. If we start with the indication for treatment, most aneurysm patients are asymptomatic, and we treat them because their aneurysm has been detected incidentally. We look for prophylactic treatment to prevent future rupture. In dissection, the patients usually come to the hospital because of symptoms­—because they have pain. They experience severe thoracic pain, come to the hospital and require medical treatment and ICU care. If we treat them at the early phase, we treat them for symptomatic complications if they have malperfusion of any peripheral vessels—the renals, the iliac arteries, things like that. We are treating symptomatic patients which is very nice because you can improve things for the patient. When we treat aneurysmal patients, we treat an asymptomatic person so we can only make things worse. It makes us much more careful in the indication and humble, and we need to talk much more to the patients as they need to agree on something that can make them worse. That's a very fundamental difference in the indication.
If we look at the time of treatment and at open and endovascular, a dissection in the descending aorta is all TEVAR today. There is no indication for open surgery anymore. If we look at aneurysmal disease, most patients come with infrarenal abdominal aneurysms, where open repair still is a valid option.
Looking at the endovascular treatment options, it is very interesting that all the stent grafts have been designed for aneurysmal disease, so we look for situations where we want to acquire a tight seal in the proximal and distal part and thereby exclude the aneurysm. In dissection, we fundamentally change that approach. We only aim for seal in the proximal part. In the distal part, we are already happy if we are not causing damage with the distal end of the stent-graft by introducing a new entry tear. We use the stent-graft only to direct flow into one of the lumina while we actually don't completely occlude the aneurysmal dilatation of the false lumen. There is a long list of differences in treatment.
"Disease-specific" is such a buzzword right now. What would you say is disease-­specific treatment?
Disease-specific treatment I would call the use of techniques and devices actually designed to treat that disease and to respect the disease specific properties of the aorta, which can be fundamentally different. What makes me very optimistic for endovascular treatment in general is that in dissection most operators use a stent graft that was not originally designed for that disease or that was originally designed for aneurysms. So if we look at the INSTEAD or the IRAD data we see that with aneurysm-designed stent graft, we get very good results in dissection. If stent-grafts will be designed for dissection in the future, this can just improve outcome further. One disease specific device design that we already have available today is the dissection stent-graft. This device has no traumatic bare stent and barbs, and double-tapered components are available respecting the different diameters in the proximal and distal landing zones.
What would you recommend fellows or trainees do to get practice treating dissection?
If the fellows do not see dissection cases at their institution, this pathology may not play an important role for their future practice. There are many hospitals in which dissection is managed by other specialists, who are not as much aware of modern treatment strategies. To get involved in dissection cases, I recommend they look for hospitals that have a large cardiac unit, that have cardiology and cardiac surgery.
Get stories like these sent to your email.
Sign up for our quarterly email newsletter to receive physician stories, product news, training opportunities and more in your inbox.
Tilo Köbel, MD, PhD is a paid consultant of Cook Medical.