We held our second Tweet Chat on Wednesday, June 15th. The diversity of the answers we got to our kick off question 'How are you currently working with suppliers?' shows the different factors that are affecting procurement professionals and how they can operate within the NHS. I've summarised the main points below, but check out the Twitter page if you want to read the full discussion.
Relationship Management: How can procurement leaders motivate teams to build relationships with the right suppliers, but also could relationship management become a KPI for teams?

Aggregation: This was a major talking point and this topic took over a separate thread. There were two sides to the aggregation issue: is aggregation a short term or long term value creator? There were those who were on the short term only arguing aggregation can only go so far to create value; while those on the long term value creation saw aggregation as pivotal for long term efficiency. Once everything is aggregated this is where the opportunity to drive value begins. Some interesting thoughts:

Change of processes & supply chain management within the NHS: There is a real sense that in order for everyone to work better together, the processes that the NHS have in place need to be made more efficient in order to drive long term value and allow suppliers to make recommendations of efficiency.

Or is creating effective efficiency a wider challenge across procurement regardless of industry?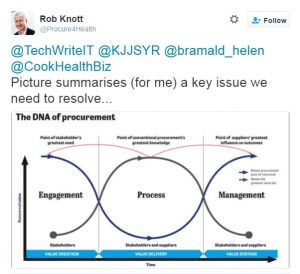 Contracts and budgeting practice: How can suppliers help NHS to define scope of what is included in budgeting and contracts and what is the scope of input into contracts? Is contracting and budgeting areas where NHS needs more input from suppliers in terms of sharing relevant data?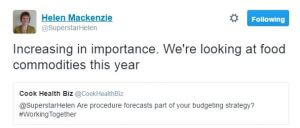 Data: There is a scattered approach to data collection and data sharing between customers and suppliers. Data collection and retention is increasingly under scrutiny. But could sharing clinical data to help trusts use procedure forecasting to set their budgets or order what they need create efficiency for both sides? Could suppliers do more to help their customers' budgets than just talking exclusively about price?
Do you agree with our Tweeters? What are your opinions on working with suppliers? Tweet me your thoughts to @cookhealthbiz. I look forward to further discussions both online and offline on these topic.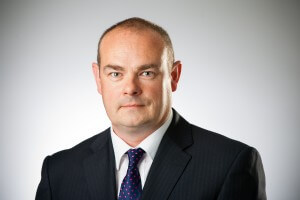 Martin Matkin, currently the director of Healthcare Business Solutions for Cook Medical in Europe has been with Cook for more than 18 years. He started as a medical sales representative and has since served in a variety of sales management and business leadership roles. Martin received his Master of Science in Management from the Leicester Business School and is a member of the Chartered Institute of Marketing currently holding the Chartered Marketer status.