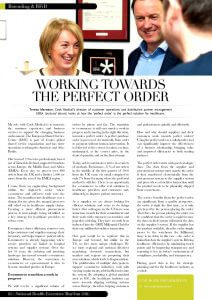 "How and why should suppliers and their customers work towards perfect orders? Using the perfect order as a collaborative tool can significantly improve the effectiveness of a business relationship, bringing value and improved efficiencies to both trading partners."
In the latest edition of National Health Executive (NHE) magazine, Teresa Marnane Director of Customer Operations and Distribution Partner Management for the European Shared Service Centre (ESSC) in EMEA, looks at how the 'perfect order' is the perfect solution for healthcare and why ordering methods in Europe are still variable.
Read the full article here, courtesy of NHE.