The height of the fax machine came in the 1980s1. Almost 40 years later, new, more efficient ways to communicate, such as electronic data interchange (EDI), have been developed. Back in April 2016, we first took a look at the methods—EDI, email, phone, fax—through which our customers prefer to place orders. A year has passed and we wanted to revisit the data to see if ordering patterns have changed.
Let's take a second look at the methods our customers are using to order our products in 2017.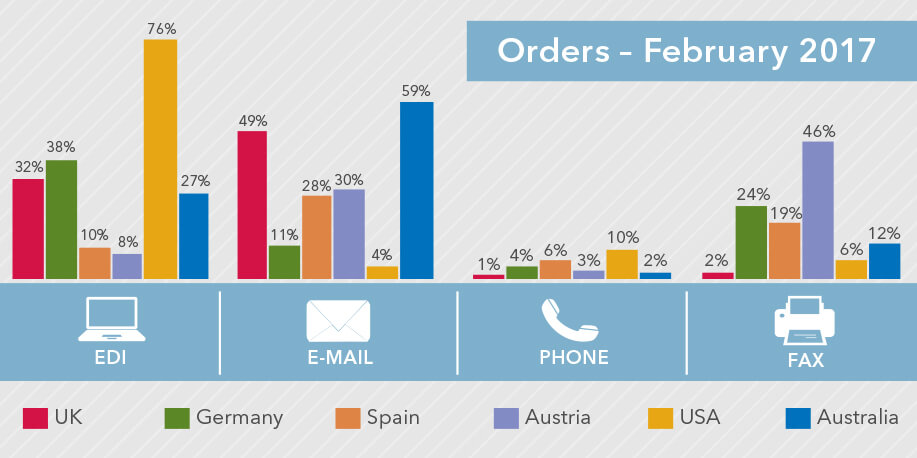 The most common ordering method in Europe is still through email and fax. We saw little change in ordering patterns over the last year, even with such a large push in the U.K. to move towards e-commerce through implementing GS1 standards. However, if we compare the overall data from 2016 to 2017, then we can see only a slight move towards EDI and an overall decrease in fax.
Overall, these are the changes that we have seen in the past year:
Germany – the largest decrease in fax use and an increase in email
U.K. – slight increase in EDI
Austria – a decrease in fax use and an increase in email
Spain – a decrease in fax use and the largest increase in EDI
U.S. and Australia – the most similar to 2016, ordering patterns remain steady
We recognise the importance of e-commerce, such as EDI, in driving efficiency for suppliers and healthcare systems. We have been investing in this area to make sure our capability meets the needs of our customers. Although efficiency through EDI is high on the healthcare agenda, we continue to see little change in the ordering patterns of our European customers towards EDI; this is a massive missed opportunity.
As hospitals are looking for ways to generate efficiency, a great way would be to start using e-commerce and EDI ordering. EDI ordering reduces processing and resource requirements for ordering and invoicing and identifies the source of common ordering and invoicing errors. There would be little need for manual entries and updates, and would reduce errors and invoice disputes. Our goal is to support customers to create an end-to-end, touchless purchase-to-pay experience, and all ordering and invoicing would happen within a single system.
As we work to find cost savings together, get in touch with us today to discuss how we can best support you on Twitter @cookhealthbiz, or use our EDI contact page.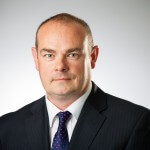 Martin Matkin, currently the director of Healthcare Business Solutions for Cook Medical in Europe, has been with Cook for more than 20 years. Martin was a radiographer with a clinical background before he started as a medical sales representative and has since served in a variety of sales management and business leadership roles. Martin received his Master of Science in Management from the Leicester Business School and is a member of the Chartered Institute of Marketing currently holding the Chartered Marketer status.
Citation
1. Sakurai Y, Oikawa A, Hatakeyama N. IEEE Milestone Dedication Ceremony for International Standardization of G3 Facsimile. NTT Technical Review. https://www.ntt-review.jp/archive/ntttechnical.php?contents=ntr201208in2.html. Published 2012. Accessed March 1, 2017.