By: Dave Reed, Vice President of Operations, Vice President of Healthcare Business Solutions for Cook Medical U.S.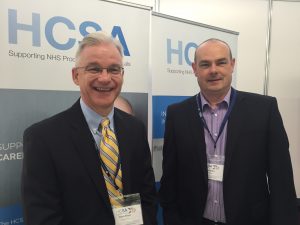 I was asked by my colleague, Martin, to write about my perspective and experience with the annual HCSA conference in Harrogate, U.K. Upon thinking back on the recent conference, I was struck by how similar the challenges healthcare faces globally are. These challenges include the global healthcare absolutes, the unique opportunity procurement has to advance healthcare, and the need to work together to serve patients in the future.
Three global healthcare absolutes
Observations from the annual conference focused on how to make healthcare procurement better by addressing common issues and implementing potential solutions. It was evident during this session that the three global healthcare absolutes were just as much an issue for everyone here (in the U.K.) as they are in the U.S. and in many other countries around the globe. Those three absolutes or top challenges we face in healthcare today are an increasing number of patients, funding pressures, and the desire for better outcomes.
The demand on the healthcare system is increasing as more patients than ever are utilising healthcare services. From a funding perspective, we have to make our money go further to meet the increasing demands and costs of care. The final global absolute is patients' ever increasing expectations to receive better care.
During HCSA, as in the U.S., there were many conversations about the global healthcare absolutes. Unfortunately, the three challenges work against each other and it is safe to say that no one person, system, or trust has it figured out. Around the globe there are pockets of excellence, but at this point there is not a comprehensive solution to the global absolutes challenge.
Procurement opportunities
Procurement has a tremendous opportunity to help deliver the objectives of the healthcare system as they have a unique view into healthcare costs, quality, and outcomes. Procurement is at the centre of the healthcare system, supporting trusts by connecting people, data, and organisations.
Globally, this is not only an opportunity for the NHS but for all procurement and supply chain teams to be leaders in advancing organisations forward. This includes opportunities that help enable health systems, trusts, and other stakeholders to reduce care delivery costs without negatively impacting care. An example of this is the adoption and use of GS1 standards across the industry.
Working together
Globally and locally, it is going to take all of us coming together and working together to meet the demands and needs of patients in the future. This requires a comprehensive, holistic approach to healthcare rather than a siloed approach. Annual conferences, such as HCSA, help us begin these collaborative conversations. This is a message that resonates globally: the more we work together to share ideas, the stronger our systems can be.
Overall, from an outside-the-U.K. perspective, I observed that we are all trying to achieve the same goal. The ultimate focus is on cost-effective patient-centered quality outcomes. To move forward it is critical to remember to talk to each other and to work together, from trusts to clinicians to procurement. Our combined diverse viewpoints bring in the potential for more robust solutions than our individual siloed perspectives.
About Dave Reed
Dave Reed is currently Vice President of Operations, Vice President of Healthcare Business Solutions for Cook Medical. With over 30 years of life science industry expertise, Dave holds an MBA from California Miramar University and serves on the boards of the Strategic Marketplace Initiative (SMI) and the Indiana University Kelly School of Business Supply Chain Academy Advisory Board and is a professional member of the Association of Healthcare Resource & Materials Management (AHRMM).