We talked with Philippe, a Cook Medical corporate account executive (CAE) in France, to learn more about his Cook story.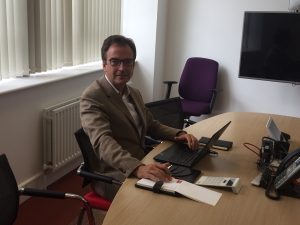 How long have you been with Cook?
In September, I'll have been with Cook for seven years. I started as a CAE in France. At the time, the CAE role was a new role in my country. It was a great opportunity to learn more about our company and about our Healthcare Business Solutions division.
As a CAE, what does your job entail?
In my role, I cover different activities mostly within the private sector of France. I work closely with the corporate tenders executives (CTE) who cover the tender's part of the business. I work internally with our customer support centre in Ireland as well as with our sales team. Frequently, I have meetings with big customer such as IDNs or GPOs to discuss subjects such as supply chain, electronic data interchange (EDI), and contract management. Additionally, I represent Cook in the SNITEM, a professional healthcare organisation in France where we discuss the market, reimbursement, and the latest healthcare regulations.
I also get to work cross-functionally with our different clinical divisions in order to make doing business with Cook more seamless. I enjoy being able to support the regional managers in achieving their goals and present the best solutions to Cook and to our customers.
What's your favorite part of your job?
I sincerely appreciate doing business with and working with customers. I like being the one point of contact for customers and appreciate being able to solve issues for both Cook and our customers. I am proud to represent not only Cook but our also our clinical divisions when working with customers. Secondly, I truly enjoy working in an international organisation throughout Europe.
Lastly, healthcare has some opportunities ahead, and I'm excited to be a part of that. Things are always changing and moving forward as health systems strive to make better business decisions. During this time of change, many health systems will look to suppliers for help in making their business more efficient and effective. I enjoy the opportunity to determine what our company can do to help solve customer needs.
Looking ahead, what new and exciting challenges are you passionate about in your field?
In the future, I'm excited to see more transparency internally within Cook. As we progress as a company, I'm excited as we look to the future to make positive changes in order for us to better do business with customers and in turn patients. As we work as a company to provide more tools and information to those in the field, I see us being able to work with customers more effectively.
What keeps you inspired?
I'm motivated by working with many different people both inside and outside of Cook. As the healthcare environment is becoming more business oriented, it's more important than ever to be informed about what's going on in our industry. The need to keep up to date on trends and industry knowledge is exciting to me.
Lastly, what is one interesting fact about you?
I enjoy running, specifically marathons. I like to compare a long race to a negotiation with a customer—you have to train and prepare, races are long, and it's a process.
Want to know more about us at Cook Medical? Join the conversation, and follow us on Twitter @cookhealthbiz or @cookmedicalEU