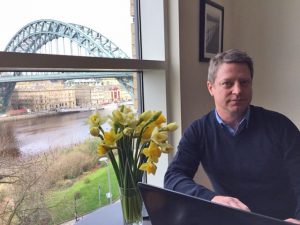 We chatted with Peter, a corporate account executive (CAE) for Cook to learn more about his Cook story.
How long have you been with Cook?
I've been working with Cook for 14 years. For eight years, I was a sales representative for Cook's critical care, surgery, and endoscopy divisions. After working at Cook as a sales representative, I worked at DHL NHS Supply Chain and later at JDI Medical doing medical device recruitment and development training for medtec companies. In 2010, I rejoined Cook Medical and have been a corporate account executive (CAE) for the last six years where I cover the UK, Ireland and the Netherlands.
Before Cook, I had 11 years of nursing experience, specialising in Paediatrics. During this time, I would often see Cook products used in various departments. From the beginning, I was initially keen to and chose to join Cook because of its culture. It was appealing to me that at Cook, we focus on the patient as well as both the clinical and business side of healthcare.
As a CAE, what does your job entail?
In a nutshell, my job is to help represent a One Cook approach collaborating across our 10 business units in a way that makes it easier for hospitals to do business with Cook Medical. I try and accomplish this by facilitating procurement linked projects, creating commercial offers, solving supply chain problems to help deliver efficient services, advancing our business and customer relationships, and ultimately doing the right thing for the patient.
Instead of viewing the CAE role as one point of contact, I prefer to view it as a focused coordination with multiple points of contact allowing for high engagement in an more organised way. Our ultimate goal is to work in partnership and develop mutual strategies with clinical, procurement teams, and budget holders
What's your favourite part of your job?
The most satisfying thing about my job is when customers give positive feedback. Recently a senior procurement manager called me to complement one of our sales representatives on how they were conducting business in their hospital. This is a testament to the great engagement, communication, and partnership that Cook has developed with that hospital. I was then able to share this positive message with the rest of my team.
Looking ahead, what new and exciting challenges are you passionate about in your field?
Two things come to mind. First, I'm excited about GS1 data standards. GS1 has been very evident in the retail industry for many years and it's slowly starting to make its way into the healthcare industry. I'm excited about GS1 because it allows us to deliver massive amounts of efficiencies for trusts in terms of accurate ordering and inventory management. In regard to patient safety GS1 also provides much more visibility in terms of product and patient traceability. I'm optimistic that trusts will ultimately be better able to measure how much it costs to treat a patient across trusts and regions.
Secondly, our own internal efforts to continually improve and meet customer needs are creating a positive shift for our company and I'm encouraged by that. We're moving towards systems and processes where we can do things more quickly and accurately in order to better align with our customer expectations.
What keeps you inspired?
Positive feedback from customers and team members reminds me that we're doing the right thing and making a difference in a patient's life. I'm inspired by our encouraging and collaborative culture and passionate team members.
Lastly, what is one interesting fact about yourself?
I practiced Taekwondo for many years.
Want to know more about us at Cook Medical?  Follow us on Twitter and join the conversation @CookHealthBiz or @CookMedicalEU