We met with Laura, a corporate tender executive for Cook Medical's Healthcare Business Solutions (HBS) team, to learn more about her Cook story.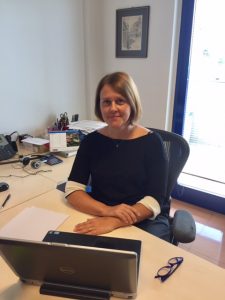 How long have you been with Cook?
I have been working with Cook for 22 years. During my first 10 years I worked in the tender department in the Cook Italia office. In 2005, Cook centralised customer service and tenders into the European customer support centre in Ireland and I moved to the finance department to cover a maternity contract.  I then took the role of clinical monitor to support the manufacturing team in Denmark for the clinical investigation for Zilver PTX. My next step was a short experience in our Aortic Intervention division and then in 2009 I became corporate tender executive (CTE) for Italy.
As a CTE, what does your job entail?
 A CTE is a tender specialist. The tender environment is wide, it involves relationship building, leadership, regulatory, and legislation. My main job is to play an active part in understanding the tender and to project manage it through to completion. This involves supporting our divisions before and after the tender is published and working closely with the European customer support centre to make sure that they are always up to date on tender rules and regulations in the Italian market. I also support our divisions in creating commercial proposals and finding solutions for customers. I also meet with customers to help facilitate better communication around tenders and commercial offers.
During the last few years as Italy has become more active in EDI, I work with our customer support centre to assist our customers in adopting EDI.
What's your favourite part of your job?
My favourite part of my job is the interaction with several and different people including the divisions teams, customers, customer support centre, IT, regulatory department, and our trade association.I feel very satisfied when we win a tender and we start to receive orders.  I enjoy organising meetings with our divisions to decide the strategies before talking to the customer. I love to be part of the tender office where our business is developed.
What keeps you inspired?
The challenges. During this eight years as CTE, every day has been different.
Looking ahead, what new and exciting challenges are you passionate about in your field or area of work?
Looking ahead I see a new era of digitisation. Day by day, our customers are promoting new technology and moving towards electronic tenders and orders. Our customers are living a period of when decisions are being more centralised, it will be a new challenge but also exciting for us and them.
Lastly, what is one interesting fact about yourself?
Above all I am a MAMMA and wife. I spend all my free time with my family; playing with my kids, helping them with homework, participating in sports and going to the cinema.