At the annual HCSA conference this year we will be hosting a panel session on how suppliers can help trusts become more efficient in their procurement processes. The panel will be made up of a selection of healthcare professionals involved in the procurement process and it will be facilitated by Mr. Steve Vandyken, Director of Procurement and Supply Chain at University Hospital Southampton NHS Foundation Trust. Our goal is to show how the various parties in the procurement process can utilise suppliers and each other to achieve efficiencies.
Ahead of the conference, we've sent out a survey to attendees to gauge their opinion on a number of topics around current procurement practices and approaches to working with stakeholders. The results of this survey will be revealed at the panel session and will guide our discussion.
Our panel discussion titled "working with suppliers to achieve efficiencies" will take place on Thursday 26th November at 11.45 a.m as part of workshop session 4 and you can sign up in advance here or at conference registration. If you can't make it you can still take part in the discussion on Twitter by using #domorewithless #HCSA2015 and @cookhealthbiz in your tweets.
I look forward to seeing you at HCSA 2015 in November for what I hope will be a great opportunity to exchange ideas and work towards a better symbiotic relationship between suppliers and their customers. It's time to get passionate about procurement!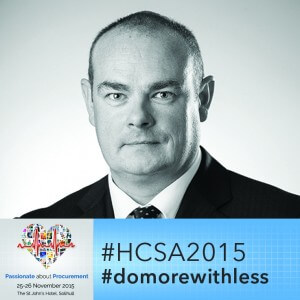 MM
https://nhsprocurement.org.uk/
http://www.hcsaconference.co.uk/conference/
To register in advance for our workshop, click here.
For conference updates follow #HCSA2015 & #domorewithless